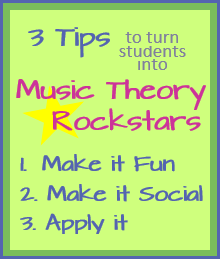 In case you haven't seen it, my article 3 Tips to Turn Students into Music Theory Rockstars was featured on the Music Matters blog.
In the article I share three easy-to-apply tips that have helped the kids in my studio gain a super solid understanding of music theory, excel in their exams and have fun in the process. These tips have worked so well that I've even had 4 year olds ace the first grade exam.
I also share some fun game ideas that you can use to help your students master theory concepts. These are straight out of my theory curriculum, and some of them have never before been shared.
Natalie Weber's Music Matter's Blog is one of the longest standing piano teacher blogs in existence, and she shares a ton of great content. If you haven't yet had the chance to check it out, I encourage you to hop on over to Music Matters and visit with Natalie.