Even young kids can learn how to improvise the left hand, and they'll be thrilled at how impressive they sound. I've created free printable sheet music for Away in a Manger and a video tutorial that you're welcome to use with your students. Click the play button above to learn an easy pattern that creates a beautiful accompaniment to Away in a Manger.
You can print the sheet music for free by clicking on the image. Be sure to watch the video to learn how to use these.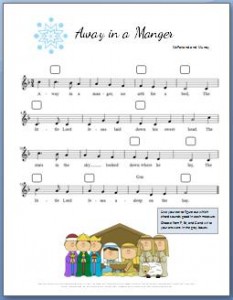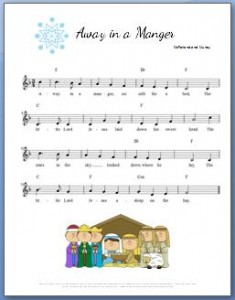 This activity is sure to be a hit with your students. One of my students actually likes playing the accompaniment more than the melody! I've done this with kids as young as 5 years old. The only trick with really little students is to make sure they've got plenty of practice with scales and chords before you try this.
I created a fun system for teaching kids to play and improvise with scales and chords, and I start this system with most of my students on day 1–even the very young ones. It's called Piano Magic and if you think it would help you, be sure to sign up for my email newsletter so that you'll get the announcement when it's available for purchase.
If you like this video tutorial and the free sheet music, please take just a second to like it, share it and leave a comment. I'd love for others to be able to find and use these resources, and I really do read your comments and appreciate your feedback.

Did you enjoy these resources for teaching kids how to play Away in a Manger? Here's what you can do next:
First, Leave a Comment–we all benefit when we work together and share ideas.
How did it go when you used these techniques with your students? What other tips do you have for helping kids learn to play their favorite Christmas carols beautifully? Leave a comment below to help out the other piano teachers in our online community.
Second, Help Other Music Teachers find and use this Away in a Manger Piano Sheet Music and the process for teaching kids how to improvise the left hand.
1. Pin your favorite activities from this page to Pinterest
2. Like and share myfunpianostudio.com on Facebook
Third, Start Teaching Piano Improv. It's fun to play music written by others, but also very fun for kids to create their own songs.
Sign up for my email newsletter and get a free beginner blues improv lesson. This improv lesson is designed for beginners and can be learned quickly so that kids can start jamming right away. Click the button below to subscribe and get the free blues improv lesson.