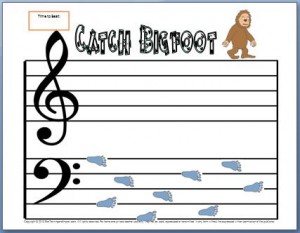 With this worksheet, kids race to "catch Bigfoot" by correctly naming the bass clef notes. This free printable piano worksheet for kids focuses on bass clef notes and is a companion to the treble clef notes worksheet.

To use this worksheet, print it out and then set a goal with the child. Tell him that in order to catch Bigfoot, he has to quickly name all the notes before the time is up.

You'll write the goal in the box provided and then, when you say go and start the timer, the student will quickly write in the note names on the footprints. There's no time for counting lines and spaces if you're going to catch Bigfoot!

This PDF contains two bass clef worksheets so that you can present the notes in a different sequence for extra practice.
Print Bass Clef Worksheet
Free Printable
Want more worksheets? Read this post about
bass clef worksheets
.