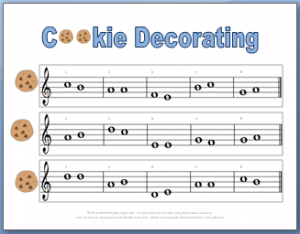 This is a new melodic dictation game to help kids with ear training. My students get excited about decorating their cookies and they learn to listen carefully to the notes they hear.
Cookie Decorating
Purpose: Ear training- melodic dictation
Materials: Cookie Decorating cookie board and decorations, pencils, Cookie Decorating answer sheet, keyboard
Set up: Give each child a cookie, answer sheet, pencil and pile of decorations.
You can play this game with a single student or with a small group. With a single student, play five rounds and see how many correct answers he gets. With a group, play five rounds and see which student gets the most correct answers. See the instructions below.
How to Play:
Select one row from the answer sheet. This row has five rounds. Instruct the children that you will play a three note sequence from the first measure and they must listen carefully for the third note. It will either repeat the second note or go up or down a step.
Teacher plays the three note sequence twice for the students to hear. Students then use their pencil to write in the last note. Check students' answers. Anyone who answered correctly gets to choose a decoration to place on their cookie.
Play another round with the second measure in the row you chose. Continue until you've completed all 5 rounds. Winner is the child with the most decorated cookie at the end of five rounds.



Print This Ear Training Game
Print out an answer sheet for each student. Also print and cut out a cookie and some decorations for each child. Use the button below to print this game for free.
Free Printable
Did you enjoy this ear training game? Here's what you can do next:
First, Leave a Comment–we all benefit when we work together and share ideas.
What other techniques do you like to use to help your students with beginner melodic dictation? Leave a comment below to help out the other piano teachers in our online community.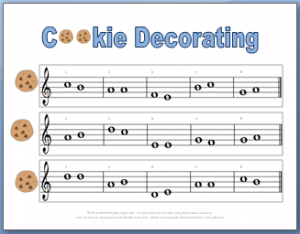 Second, Help Other Music Teachers find and use this ear training game.
1. Pin the image that's on the right
2. Like and share myfunpianostudio.com on Facebook
Third, Start Teaching Piano Improv to put those well-trained ears to use as kids create music and give your students a lifetime of enjoyment at the piano.
Sign up for my email newsletter and get a free beginner blues improv lesson. This improv lesson is designed for beginners and can be learned quickly so that kids can start jamming right away. Click the button below to subscribe and get the free blues improv lesson.