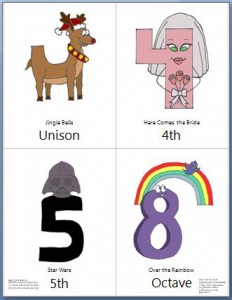 Meet the Ear Training Intervaltoons (TM)
In my experience, the easiest way to train the ear to recognize music intervals is to associate each interval with a familiar song. This technique becomes even more powerful when you include visual learning aides.
I created these fun ear training interval visuals, called Intervaltoons (TM), and my students love them! I've seen a huge improvement in their ear training since we started using these.
Here are the songs we use:
Unison: Jingle Bells
4th: Here Comes the Bride
5th: Star Wars
Octave: Over the Rainbow

I also have an ear training worksheet with these visuals. The worksheet is another great way to give kids practice with recognizing intervals.
You're welcome to give these visuals a try–the first 4 Intervaltoons (TM) pictured here are free when you subscribe to my email newsletter. After you've tried them, please leave a comment below and let me know how it goes. If teachers find these helpful, I'll make the other intervals available for purchase.
Click the button below to subscribe to my newsletter & get your first 4 Intervaltoons Free
Click here to Subscribe
Did you enjoy these ear training interval song visuals? Here's what you can do next:
First, Leave a Comment–we all benefit when we work together and share ideas.
Which is your favorite Intervaltoon? Do you have any other fun ideas for helping your students with ear training? Leave a comment below to help out the other piano teachers in our online community.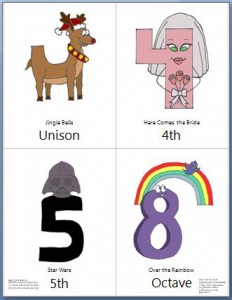 Second, Help Other Music Teachers find and use these ear training Intervaltoons.
1. Pin the image that's on the right
2. Like and share myfunpianostudio.com on Facebook
Third, Start Teaching Piano Improv to put those well-trained ears to use as kids create music and to give your students a lifetime of enjoyment at the piano.
Sign up for my email newsletter and get a free beginner blues improv lesson. This improv lesson is designed for beginners and can be learned quickly so that kids can start jamming right away. Click the button below to subscribe and get the free blues improv lesson.