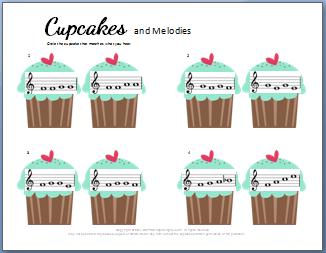 Isn't this new ear training worksheet cute? My students love it! The reality is, they love pretty much any worksheet that has sweet treats on it.
This worksheet helps with melodic dictation and is really easy to use. Kids listen to a melody and then circle which of the two cupcakes displays the correct melody.
You, as the teacher, just direct the student's attention to the first set of cupcakes and then play one of the examples. It's a good idea to play it twice and then allow time for the student to answer.
After the student has circled her answer, check her response and give feedback. You may want to play the example one more time.
I like the worksheet because it also works great during a group lesson. Click the button below to print and give it a try!
Print This Ear Training Worksheet
Free Printable
Did you enjoy this ear training worksheet? Here's what you can do next:
First, Leave a Comment–we all benefit when we work together and share ideas.
What other techniques do you like to use to help your students with beginner melodic dictation? Leave a comment below to help out the other piano teachers in our online community.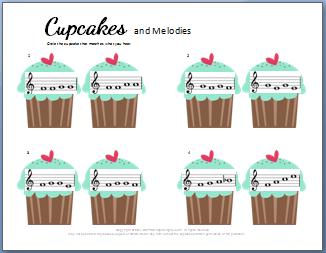 Second, Help Other Music Teachers find and use this ear training worksheet.
1. Pin the image that's on the right
2. Like and share myfunpianostudio.com on Facebook
Third, Start Teaching Piano Improv to put those well-trained ears to use as kids create music and give your students a lifetime of enjoyment at the piano.
Sign up for my email newsletter and get a free beginner blues improv lesson. This improv lesson is designed for beginners and can be learned quickly so that kids can start jamming right away. Click the button below to subscribe and get the free blues improv lesson.