I'm a big believer in ear training because I want to help my students become more musical and I want them to be able to improvise, compose and play the piano by ear. When kids can create their own music, the piano suddenly becomes so much more fun!
In my studio, we start with simple ear training activities and then work our way up to more complex exercises. I created fun ear training games to use with kids and they've been a big hit. Click on an image below to visit the post and read the full instructions for each ear training game.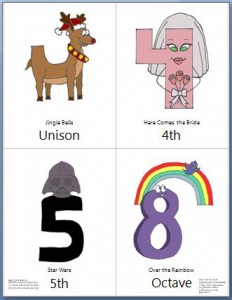 The most effective method I've found for teaching music interval recognition is through song association. In this technique, you help kids recognize the interval within familiar song. I typically choose a song that begins with the interval. I created these Intervaltoons (TM) to give my students a visual and thereby compound the learning effect. The numbers are cartoon characters that represent each song. They'be been a big hit and proven very effective for interval ear training. Click here to read the full post.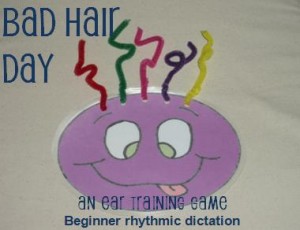 Help your student work on beginner rhythmic dictation with this silly game that gets kids giggling and learning at the same time. Each time kids answer correctly, they get to add a strand of pipe cleaner hair to their character. I've seen kids get pretty creative with their twists, tangles and braids! Click here for instructions on how to play the game.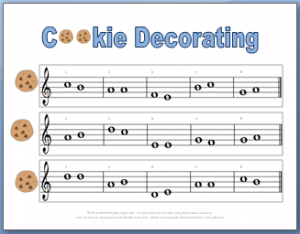 Since posting this game a few years back, I've had tons of music teachers write to tell me how much they and their students love the Cookie Decorating game. It does require some prep, but it's well worth it for how effective it is at introducing melodic dictation in a fun way. Click here to access the Cookie Decorating ear training game.
Did you enjoy these ear training games? Here's what you can do next:
First, Leave a Comment–we all benefit when we work together and share ideas.
Which is your favorite ear training game? What other techniques do you like to use to help your students with beginner ear training? Leave a comment below to help out the other piano teachers in our online community.
Second, Help Other Music Teachers find and use this ear training game.
1. Pin your favorite games to Pinterest
2. Like and share myfunpianostudio.com on Facebook
Third, Start Teaching Piano Improv to put those well-trained ears to use as kids create music and give your students a lifetime of enjoyment at the piano.
Sign up for my email newsletter and get a free beginner blues improv lesson. This improv lesson is designed for beginners and can be learned quickly so that kids can start jamming right away. Click the button below to subscribe and get the free blues improv lesson.