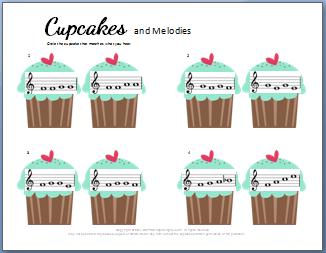 If you want your students to really be able to enjoy themselves at the piano, you definitely need to include ear training in your instruction. I've created tons of fun resources that make ear training fun. Below are a few ear training worksheets that you can print for free.
This cute Cupcakes and Melodies worksheet focuses on melodic dictation. Just direct your student's attention to the first pair of notes. Tell your student that you will play a sequence and they should circle the cupcake that contains the correct melody that they hear. I guarantee your students will love this activity!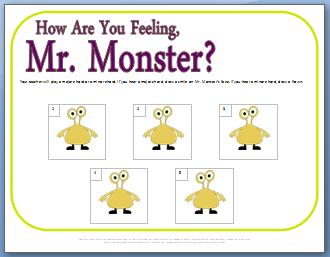 How Are You Feeling Mr. Monster helps kids listen for and identify major and minor triads. Before using the worksheet, you'll want to talk about the sound qualities of major and minor chords. Play a few examples of major triads and ask students to tell you how they feel when they hear the chord. Help them recognize that major chords sound bright and happy. Next play some minor triads and ask your students to describe the way these chords sound. Kids might say the chords sound sad.
Now you're ready for the activity! Give your student a copy of this free printable and then ask him to draw a face for Mr. Monster that matches what he hears. You will play either a major or a minor chord for each example. If the student hears a major chord, he draws a smile on Mr. Monster's face. If he hears a minor chord, he draws a sad frowny face.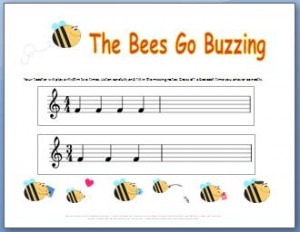 The Bees Go Buzzing is an ear training worksheet for rhythmic dictation. The worksheet is easy to use. Just tell your student that you will play two measures and they will fill in the missing second measure. I recommend that you start with very simple rhythms and work your way up to more complex examples.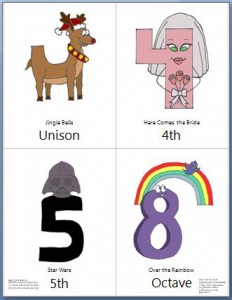 My Intervaltoons (TM) are my favorite ear training resource. I've created special visual mnemonics that correspond to each interval. The success rate with these images is amazing!
I'm working on a release of a full package of Intervaltoons (TM) that will be available for purchase, along with fun activities that utilize these phenomenal ear training aids. For now, you're welcome to print and use this sampler–it's a free gift when you subscribe to my newsletter. If you come up with fun activities that you'd like to share with other teachers, you can share by leaving a comment below. We all benefit when we work together!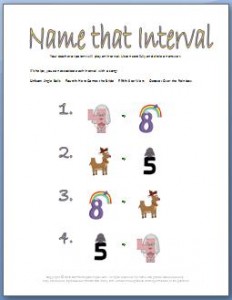 Here's a worksheet that uses the Intervaltoons (TM) to practice identifying music intervals. After you teach the intervals, you can quiz your students by playing an interval and asking your students to listen carefully and then circle the correct answer.




Ear Training Worksheets for Halloween and Fall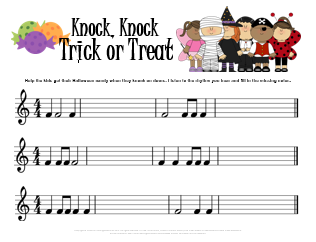 Knock, Knock, Trick or Treat
Fun ear training worksheet for practicing rhythmic dictation. Kids listen to the rhythm the teacher plays. Then they fill in the missing measures.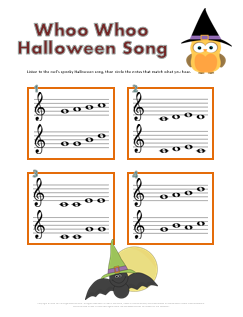 Whoo Whoo Halloween Song
Ear training worksheet for helping students with melodic identification. This time kids listen for the melody the owl hoots and circle the notes that match.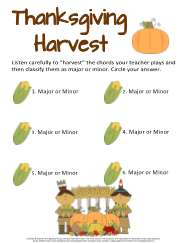 Thanksgiving Harvest
This worksheet focuses on identifying major and minor chords. You, the teacher, simply give kids a copy of the worksheet and then play either a major or minor chord. Students circle their answer for each question, and then you give them feedback.
To see more fun free printable Halloween worksheets, click here.

Ear Training Worksheets for Christmas
Give your student(s) a copy of the worksheet. Teacher plays a chord and students listen to determine if the chord is major or minor and then circle their answer. Teacher checks answers, gives feedback and plays the chord again for students to hear. Teacher then moves to the second example.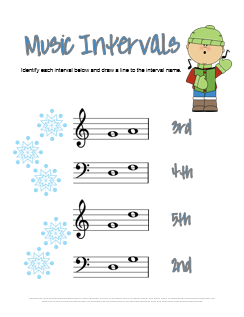 Christmas Music Intervals
To use this worksheet for ear training, place it in a page protector and give it to your student along with a dry erase marker. Play a music interval, and then have the student circle the number that they think matches what they hear.
To see more fun free printable Christmas worksheets, click here.
Did you enjoy these ear training worksheets? Here's what you can do next:
First, Leave a Comment–we all benefit when we work together and share ideas.
Which of these ear training worksheets is your favorite? What other techniques do you like to use to help your students with ear training? Leave a comment below to help out the other piano teachers in our online community.
Second, Help Other Music Teachers find and use these ear training worksheets.
1. Pin your favorite worksheets to Pinterest
2. Like and share myfunpianostudio.com on Facebook
Third, Start Teaching Piano Improv to put those well-trained ears to use as kids create music and give your students a lifetime of enjoyment at the piano.
Sign up for my email newsletter and get a free beginner blues improv lesson. This improv lesson is designed for beginners and can be learned quickly so that kids can start jamming right away. Click the button below to subscribe and get the free blues improv lesson.