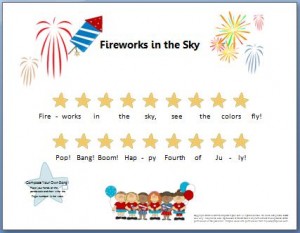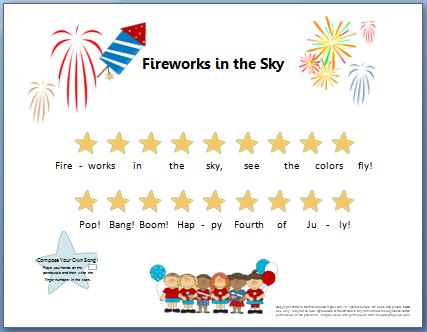 Kids love the Fourth of July. I remember each year looking forward to the patriotic celebrations and I especially loved the firework shows.
Composing is a great way for kids to express their creativity and apply the concepts you're teaching. When you give kids the chance to compose a song about something they're already excited about, they really have a blast.

I like to use composition projects to reinforce the scales we're learning, so I included a place for you to write down the scale you'd like the child to use as they compose. Of course, you don't have to do this, but hen you do ask kids to compose based on a scale, you prepare them for learning key signatures and tonality and they also get better at improvising in key. I think it's important to ask them to compose in many different keys, as opposed to always assigning the key of C.


Print this Fourth of July Composition Worksheet
Free Printable
Did you enjoy this piano composition worksheet for kids? Here's what you can do next:
First, Leave a Comment–we all benefit when we work together and share ideas.
Do you have any tips for helping your students compose? Did you have any fun experiences with your students while using this piano composition activity? Leave a comment below to help out the other piano teachers in our online community.
Second, Help Other Music Teachers find and use this composition worksheet.
1. Pin this worksheet to Pinterest
2. Like and share myfunpianostudio.com on Facebook
Third, Start Teaching Piano Improv to give your students a lifetime of enjoyment at the piano.
Sign up for my email newsletter and get a free beginner blues improv lesson. This improv lesson is designed for beginners and can be learned quickly so that kids can start jamming right away. Click the button below to subscribe and get the free blues improv lesson.