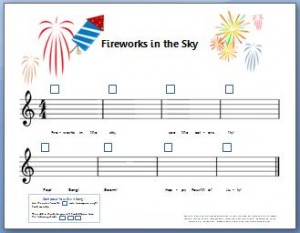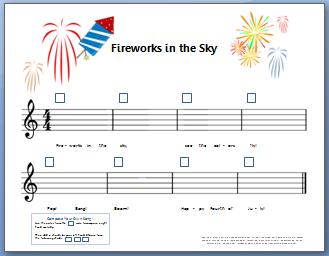 Give kids the opportunity to let their musicality sparkle with this fun composition activity.
You can help them consider their piece creatively by asking questions like: Where do you think you should use high notes? Where would low notes sound good? Can you think of any intervals that sound like a crack or a boom?
If the child has learned some more advanced embellishments, there's plenty of room to add those in too!


Composing in a Key
I like encouraging kids to compose a song based on the scale we're currently working on, so I included a little box at the bottom of the page where I can write in the instructions. If you choose to take this approach, it's a good idea remind the kids about sharps and flats.
My younger students who haven't yet learned about key signatures just write in all the sharps or flats. Later, when they learn about key signatures, they're excited to save time by simply writing the sharps or flats in the key signature area. I find that taking this incremental approach helps kids to be more aware of key signatures in the pieces from their method books.

Adding Chords
Once the melody is complete, we go back and add in chords. If you're familiar with my Piano Magic series, you'll know that I first teach young kids open chords, which they can use in the pieces they compose.
My younger students haven't yet learned about primary chords, so I just write in the three chords they can choose from and ask them to try each chord in each measure and listen for which chord sounds best. For students who have learned how to identify the primary chords, I assign them a key and ask them to figure out the primary chords for that key. Kids can write a chord name in the box above each measure, so that this ends up looking like a lead sheet.

Hope the kids you teach have fun with this worksheet. You're sure to see some creative compositions when you encourage kids to experiment with sound to imitate fireworks!


Print this Fourth of July Composition Worksheet
Free Printable
Did you enjoy this piano composition worksheet for kids? Here's what you can do next:
First, Leave a Comment–we all benefit when we work together and share ideas.
Do you have any tips for helping your students compose? Did you have any fun experiences with your students while using this piano composition activity? Leave a comment below to help out the other piano teachers in our online community.
Second, Help Other Music Teachers find and use this composition worksheet.
1. Pin this worksheet to Pinterest
2. Like and share myfunpianostudio.com on Facebook
Third, Start Teaching Piano Improv to give your students a lifetime of enjoyment at the piano.
Sign up for my email newsletter and get a free beginner blues improv lesson. This improv lesson is designed for beginners and can be learned quickly so that kids can start jamming right away. Click the button below to subscribe and get the free blues improv lesson.