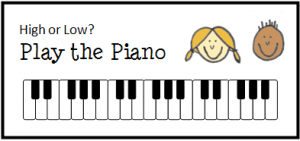 Here's a free beginner ear training worksheet for kids. This worksheet helps young kids identify high and low notes, and is intended for kids who have learned which end of the piano makes high or low sounds.
Setup
Print out a copy of the worksheet and give the child a writing utensil. Have the child sit with his back to you, so he can't see what you're playing.
How to use the worksheet
Play a high note on the piano, wait a moment and then repeat the note. The child "helps the kids play the piano" by placing an X on the end of the keyboard that the kid cartoon should play. After completing the worksheet, review the child's answers, playing the notes again for him to hear.
Download