Halloween worksheets and games!

It's that time of year again, and the fun of Halloween easily spills over into teaching music theory. Check out my new collection of Halloween worksheets and games that will make learning the fundamentals spooky and fun!
In the new Halloween section you will find:
Free printable worksheets covering note reading, rhythm, interval identification, music vocabulary, stem rules, and more.
Quick Halloween games for teaching theory in a private lesson.
Fun group games to use in a group lesson or a fun Halloween themed piano party.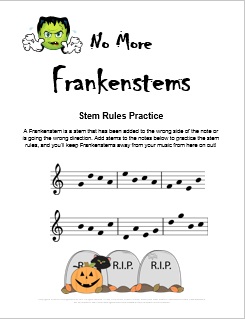 I love the worksheet called No More Frankenstems. You know how some students just don't seem interested in learning the right way to add stems to notes? I call those mutated stems "Frankenstems." Use this worksheet to help kids master the stem rules and they'll be sure to remember that they don't want Frankenstems in their work!



Click here to visit the new Halloween page with the free printable worksheets and games. Hope your students enjoy!