Of all the fantastic resources on this blog, let me show you which have been the most popular and give you insider tips for getting the most out of these materials.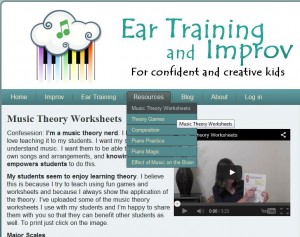 1. Music Theory Worksheets I have created tons of theory worksheets and activities that music teachers and individuals are welcome to print and use for free.
To access these materials at any time, use the navigation buttons at the top of the page to access these teaching tools at any time. Hover your mouse over "Resources" to see a drop down menu. Click on "Music Theory Worksheets" to see a huge list of free printable music theory worksheets.

Below are some of the most commonly accessed printables.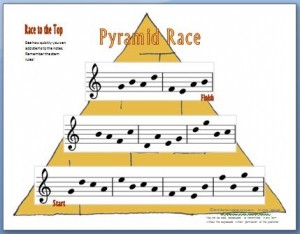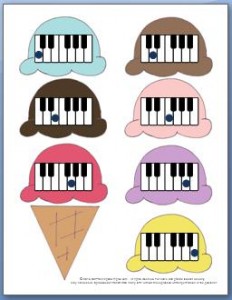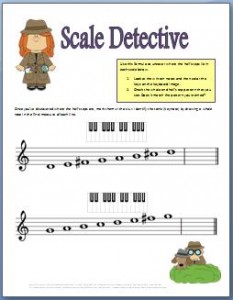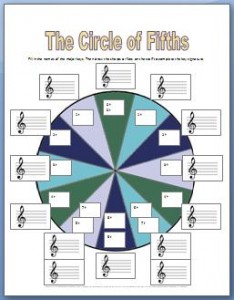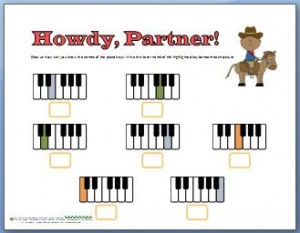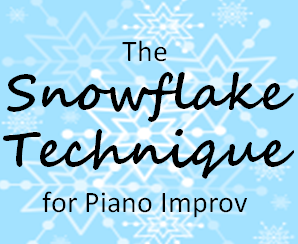 2. The Snowflake Technique This is one of my students' all time favorite piano improv activities. It's simple, but creates gorgeous sounds. In my video tutorial I even show you a modification for young children so that even little tikes can create beautiful music with the Snowflake Technique. Click the image to see a video tutorial and also watch a professional performer use the technique.
To access The Snowflake Technique and other fun piano improv video tutorials, hover your mouse over "Improv" at the top of the page. Then select Improv Activities from the drop down menu.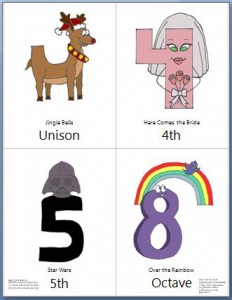 3. Ear Training Activities Training the ears to listen carefully and identify the tones and patterns they hear is easy. Just start with simple activities and work your way up to more advanced exercises. My students love the listening games we play, and I'm sure your students will too! I give them lots of practice at each level before moving on to the next level of difficultly.
I use the activity on the right to help kids learn to identify intervals. Associating an interval with a song is superbly effective. The visuals in this printable show an interval number that represents a song. For example, the first two notes of Here Comes the Bride are a fourth interval apart. So in this picture, the number four looks like a bride. When you use both the audio mnemonic of the song and the picture mnemonic in this printable, you're doubly reinforcing interval ear training. Give it a try and you'll be impressed by how well it works with your students!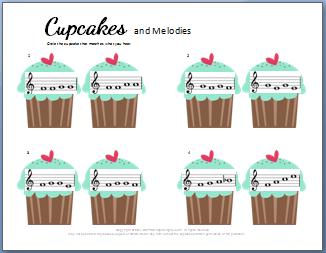 To see ear training worksheets like the one pictured here, hover your mouse over "Ear Training" at the top of the page and select worksheets from the drop down menu. You'll find worksheets to help kids learn to identify intervals, rhythms, and major and minor chords. When kids have mastered these skills, they'll be able to hear a song they love at then sit down at the piano and have fun playing it. They'll be able to figure out the notes in the melody, as well as it's rhythm. And when they can identify chord types, they'll know how to harmonize with their left hand. Your students will have a blast at the piano for the rest of their lives and will have you, their piano teacher, to thank for it.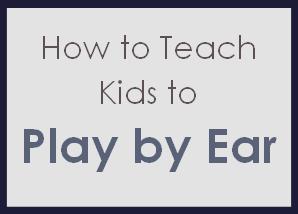 4. Playing By Ear In addition to the worksheets that drill isolated aspects of critical listening, I've created some special activities that give detailed guidance on learning to play by ear. I remember the first time I tried this approach in my studio. I had several students who were only five years old. I gave them the Silent Night by Ear activity and wasn't sure if they would be able to do it. I was blown away when every single one of them was able to do it. I wish you could have seen how thrilled the kids were when they performed their song.
When kids can play by ear, they can easily learn to play their favorite songs from movies and the radio. Composing original songs gets easier too, because kids will be able to recognize and reproduce the melody they hear in their mind.
Give these activities a try with your students at their next lesson. You'll both be amazed by how easy it is to play simple songs by ear, and you'll see a huge boost in students' confidence at the keys.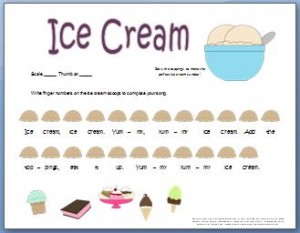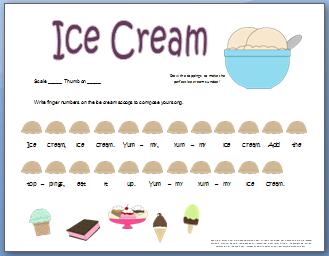 5. Piano Composition Activities I love using composition worksheets with my students because these activities give kids practice with a whole ton of music theory skills.
Kids not only learn how to compose a melody, they learn how to dictation that melody and this gives them practice with note names and the stem rules. Kids also get to practice using a time signature and making sure that each measure has the correct number of beats. When they are involved in the creation of music, it's easier for kids to understand how all the elements of a song come together in a song. Understand their sheet music is then easier. I also think that periodically writing out there songs, helps kids get better at piano improv, because they are able to articulate what they play.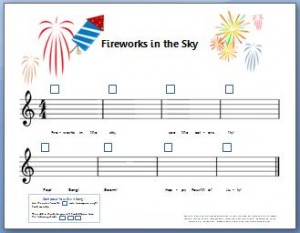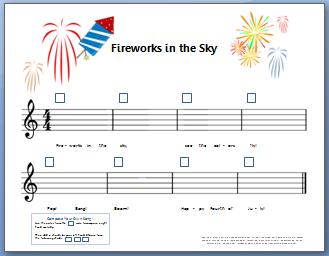 Several of my composition worksheets, like this one with a Fourth of July theme, encourage kids to practice harmonizing their melody. On this printable, there's a place for kids to write in the chord they choose above the measure, so that their composition sheet can be used like a lead sheet.




**Piano Teacher's Usage Guide**
In this section I've included further instruction for piano teachers, as well as some fun additional applications of these materials. Use these ideas to help your students have fun while fully mastering foundational music concepts.

Worksheets
You'll find worksheets covering all sorts of theory topics on the blog. Take a moment to jot down the names of each of your students. What concepts do they struggle with? Now visit the worksheets page and find a worksheet for each student addresses his or her needs. Too often teachers just continue going through the method book, without stopping to properly diagnose trouble areas. Your students will be happier and progress better through their studies if you pause and strengthen their weak areas.
There are a variety of themes for the printable activities to keep your students engaged. I'm also working on fun worksheets with holiday themes. Kids love these special themed activities, so be sure to access Eartrainingandimprov.com whenever a special occasion is approaching.
Here's a fun tip for using Pyramid Race. On week 1, point your student to the top line of the pyramid. Have your student highlight the middle line on the staff–the B line. Teach him that all notes on or above the middle line have stems than go down on the left and notes below that line have stems that go up on the right. Invite your student to practice adding stems to all the notes on that top line. On week two, pull the worksheet back out and review how to add stems. Then ask your student to complete the worksheet. On week three, print out a new worksheet and bring a timer. Ask your student to start at the bottom and race to the top. Take note of their time in their lesson notebook. Later, try it again and see if the student can beat his first time.

Improv with the SnowflakeTechnique
Use the Snowflake Technique to teach students the way the ear processes sound. Your ear first process the lowest note and then relates all the other notes to that low note. That's why when you press and hold a low C, the whole lick sounds major. When you press and hold a low A the same lick sounds entirely different–it now sounds minor. Encourage your students to experiment with different bass notes and take note of how the bass note they choose impacts the way their ear processes the sound of their right hand melody.

Music Interval Visuals
To use the music interval visuals, play the first line of the song and ask your students if they recognize the song. For example, you would play the melody that accompanies the first line, "Jingle bells, jingle bells, jingle all the way." After your students have identified the song, ask them to listen to the first two notes. Point out that those notes are the same and this interval is called unison. Hold up the visual and tell the kids that this picture will help them remember the name of the interval. Point out that the U looks like a reindeer. Repeat this pattern to introduce the other intervals. Review the visuals the following week and then use the worksheet to practice.

Playing by Ear
Your students will thank you if you teach them to play by ear. To get started, first read the article How to Teach Kids to Play by Ear to learn 4 simple steps for getting kids started. Then look at the play by ear starter sheets and print out a sheet for a song that you know well enough to sing. Follow the 4 simple steps to teach yourself to play the song by ear. You'll be surprised by how easy it is!
Now you're ready to help your students with their first playing by ear activity. Choose a simple song that is familiar to your student. Twinkle, Twinkle Little Star is usually a great first activity for kids. Walk your student through the 4 simple steps and ta da! Your student just figured out how to play a familiar song on her own. She'll be ecstatic! Encourage her to continue this process with gradually more complex songs and before long, she'll be able to figure out her favorite pop songs on her own. Working on this one skill will give your student hours and hours of enjoyment at the piano. I strongly encourage you to try your first exercise today and then start your students next week. You'll be glad you did!

Piano Composition
I'm in the process of uploading piano composition worksheets for different levels of abilities. You'll note that several of the activities, including the ice cream help sheet featured on this page, are designed especially for young beginners who haven't yet learned music notation. Even young kids can compose songs and when you start them off with simple activities during their first few months, composing will be second nature to them. For these young beginner activities, kids just need to write in the finger numbers. I place heavy emphasis on scales (in fact I begin teaching pentascales to even my youngest beginners on their first day in my studio), so I always ask my students to place their hands on a certain scale and then compose a song by writing in the finger numbers. Then after they are proficient at playing with that scale, I can have them move their hands to another scale and practice playing their composition again and it's a great way to introduce transposition.
Sometimes I let the kids compose using whatever notes they would like, but I often ask them to start and end on the tonic. This helps kids begin to understand tonality, and they'll like knowing that an easy way to end their song and have it sound finalized is to simply end on that key note.


Were these tips and resources helpful? Do you have an idea for an additional resource that would help your students? Please leave a comment below. I love hearing from you!