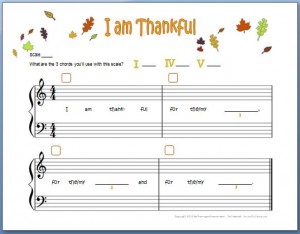 Teach kids to embellish their songs with this piano composition activity.
This composition worksheet has a spot for kids to write in which chord to use within each measure. I have my young students just focus on the I IV and V chords. If this doesn't sound familiar or you'd like to learn how I introduce chords to kids, you may like my Piano Magic ebook series.

How to Use this Piano Composition Worksheet
I generally ask kids to come up with the melody only at first, using the I Am Thankful composition worksheet. They should write their melody and be able to play it well.

The following week I give them this worksheet. They copy the melody onto this worksheet and I help them figure out what the I IV and V chords are.
At home on their own, kids get to choose which chords to use in each measure. I ask them to listen carefully to how the chord sounds with the melody and make the best choice.

It's actually very easy to teach kids to harmonize. Just start with simple activities like this and they'll be improvising and creating masterpieces in no time!


Free Printable
Did you enjoy this piano composition worksheet for kids? Here's what you can do next:
First, Leave a Comment–we all benefit when we work together and share ideas.
Do you have any tips for helping your students compose? Did you have any fun experiences with your students while using this piano composition activity? Leave a comment below to help out the other piano teachers in our online community.
Second, Help Other Music Teachers find and use this composition worksheet.
1. Pin this worksheet to Pinterest
2. Like and share myfunpianostudio.com on Facebook
Third, Start Teaching Piano Improv to give your students a lifetime of enjoyment at the piano.
Sign up for my email newsletter and get a free beginner blues improv lesson. This improv lesson is designed for beginners and can be learned quickly so that kids can start jamming right away. Click the button below to subscribe and get the free blues improv lesson.