Guest Post by Alex Frank
Introduction
When you play your piano, it comes with a joy that feels like a walk in the park during sunset with a happy sensation. However, there is a difference in learning how to play the piano, learning how to play a piano song and learning how to play a piano song fast. Learning how to play a new song the fastest way on the piano can be tricky, going about it using the wrong approach will even make things harder for you. To know how to learn a piano song fast, you will have to take your time and follow the right approach and practices to get it under your control with accuracy and confidence.
Do you desire to know how to learn a piano song the fastest? If yes, this article will help you greatly. The secret to learning a piano song, which includes taking time to master each element before dealing with the next one and the others will be discussed in this article.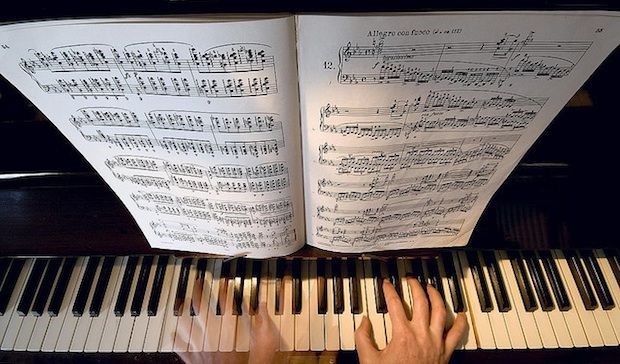 Why Do I Need to Learn a Piano song Fast?
When you are slow at learning a piano song, the amount of time you spend on learning the song will be extended. You will have little or no room to practice what you have learned which might not be to your advantage. Knowing how to learn piano song fast is therefore important as it reduces the amount of time you'll spend on learning the song. This will allow you to be conversant with the song and give you the opportunity to have a lot of practice before you render your performance. With adequate study and practice of the keys, you will become a professional at it in no time.
Learning a piano song in sections
There are two aspects of learning a piano song, these are:
1. The sheet music
2. The piano keyboard
You need to examine the notes on the sheet before starting with every new piano song you want to learn. You will have to understand and make a translation of the notes on the sheet to represent the composer's wishes. By mere looking at the score, you should be able to decode and get some basic information. For instance, we can decode the following information from a quick look at the picture below.
• From the ¾ time signature, we can conclude that it has three beats in a bar
• The "mf" expression marking shows that the loudness should be moderate
• The tempo is fast. It has a beat rate of 188 in quarter notes, so it should be played faster
• The song is in F major key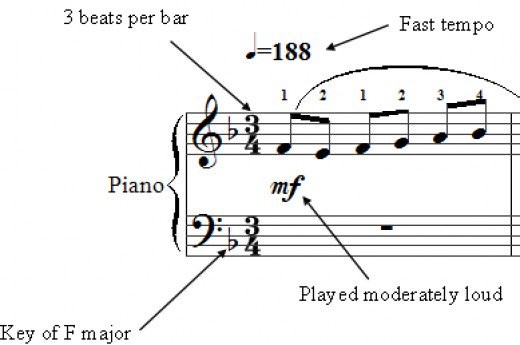 Now it's time to take your seat and get started.
How to Learn a Piano song Fast – the simple steps
1. Be Patient – start slowly
The first thing you need to do is to exercise patience. Listen to the song, or read the notes and split it into pieces, then begin with the basics of the song while practicing. You do not have to rush, play and practice the notes just as it is written. After practicing the basics begin to add to the basics little by little, by so doing, you get to know the difficult aspect of the song. As soon as you discover the difficult aspect of the song, take your time in practicing such sections of the song. Practice this song continually as it will help you learn the song faster.
2. Be Mindful of Your Hands
Practice each hand separately to avoid mistakes. Begin with your right hand before moving to the left. Don't play with the two hands at a go unless you have perfected playing the fingers separately. Also, watch your fingers while playing because they might trip over each other. Take note of this and practice till they don't. Numbering the fingers might help in curbing this.

3. Try playing with your two hands
The moment you think you can play well on each hand, try combining the two. If you find it difficult playing together with your two hands, don't give up! That is only an indication that you need to practice more. Practice with the right hand and continue until the left comes in. Continue practicing the left until you can play with both hands. When playing with both hands, you need to take things as slowly as necessary for you to master the act.

4. Avoid Practicing in Front of Your Expected Audience
The first impression they say last longer, practice alone. Rome was not built in a day; you can't be a professional in a day. Practice in your confinement to have the privacy you deserve with distraction which gives you the opportunity to identify your mistakes which you are likely to correct quickly. You might be carried away with the praises, criticism, concerns, and distractions from audiences, which might make you lose focus and probably waste your time.
5. Avoid Practicing Your Mistakes Repeatedly
When you practice your mistakes repeatedly, it might result in playing inaccurately. Immediately you discover certain parts of the song that are giving you issues, the best thing you do is to slow down at those points and take your time to correct your mistakes. Make sure the mistakes are well-addressed before proceeding with the parts you are best at, to achieve a great result.
6. Work on Your Speed with Your Metronome
Take it one metronome notch at a time, increase your speed by moving the metronome speed up by a notch. Sort out the difficult aspects and smoothen them after this has been done play the song at that speed.
7. Set A Time Frame to Accomplish a Task
When you are learning a piano song, time yourself with your stop watch to achieve moving as fast as you can. Break the song into segments, give the time you want to take in learning that aspect and work towards beating the time you allocated to each task. Do this continuously until you have perfected beating the time allocated to each task.
8. Be Confident, Celebrate Your Achievements
Be confident while playing your piano song. Don't give in to fear because it is only good at having a defining effect on you if you give into it. Rather, celebrate every bit of your achievements while learning your piano song, this will help boost your morale.
Conclusions
The guidelines given above are really helpful if they are followed diligently, you will be able to learn how to play a piano song in the fastest way that you can. Why not pick up the song you have been willing to learn on your piano now and start learning.
Author bio
I'm Alex Frank who has worked sound technology industry for 10 years now. Today, I am an affiliate blogger who likes to educate my audience more about sound technology. Visit musicinstrumentscenter.com to find all information about music that you need.