These circle of fifths worksheets have been a huge hit–they're one of the top most downloaded and shared worksheets on my website.
Piano teachers know that when students really understand the circle of fifths, they better understand all of their music theory, especially key signatures and chord progressions. And then when we take it to the next level and start applying the music theory, students can use the circle of fifths to have a ton of fun improvising and creating their own impressive songs at the piano.
To print any of these circle of fifths worksheets for free, just click on the image.
Circle of Fifths Worksheet with Treble Clef Key Signatures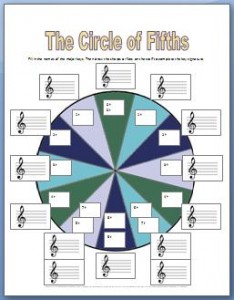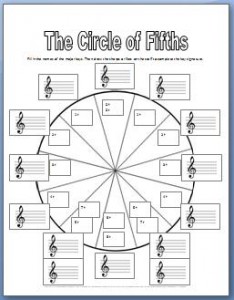 These worksheets, which include a space for the students to draw in the key signatures, seem to be the most popular among piano teachers.
The blank squares inside the circle list the number of sharps and flats and students should write the name of the corresponding key in the square. Students then draw the sharps or flats on the treble clef staves located around the perimeter of the circle. It really helps students to practice both naming the keys around the circle of fifths, and to practice drawing the corresponding key signatures.
There is a colorful version that is visually appealing to students, and a black and white version that will help you save on ink.
Plain Circle of Fifths Worksheet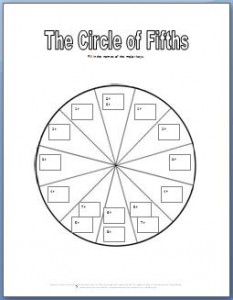 If you'd like to focus solely on the circle of fifths, these printables are right for you. Students simply go around the circle, filling in the name of each key.
The first time I have students do this, I like them to sit at the piano and place their right thumb on C. Then I have them move up five keys and write the name of the key they land on in the next wedge of the circle. We follow this process to complete the entire circle. I've found that it really helps kids better understand when they see it and physically move their hand by fifths.
I also like to periodically do challenges in my studio. I'll give them a copy of this printout and then time students to see how quickly they can complete it. I'll give small prizes to students who can meet the time goal, and this has been a fun way to motivate students to learn the circle of fifths.
Circle of Fifths Worksheet with Bass Clef Key Signatures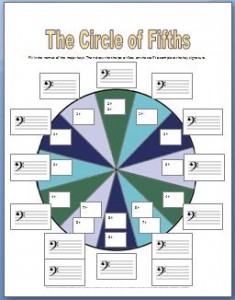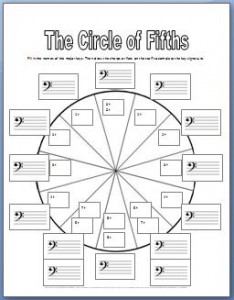 This worksheet functions the same as the treble clef version. Students write the name of the each key in the boxes located inside the circle, and then draw the corresponding key signatures on the bass clef staves located outside the circle.
I interchange the treble clef and bass clef versions so that students become proficient at drawing key signatures for both clefs.
Circle of Fifths Printables with Holiday Themes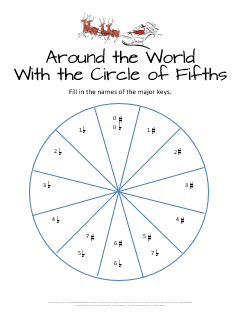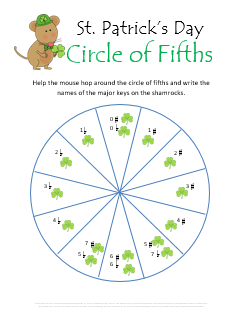 If you happen to be visiting this page around Christmas or St. Patrick's Day, you can use these fun holiday themed worksheets. My students always love it when we do holiday activities.
I've got a huge collection of music theory worksheets covering everything from rhythm, note names, music intervals, scales, ear training and more, as well as lots of holiday themed printables, so be sure to check those out while you're here.
Did you enjoy these circle of fifths worksheets? Here's what you can do next:
First, Leave a Comment–we all benefit when we work together and share ideas.
What other ideas do you have for teaching the circle of fifths to kids? Leave a comment below to share your fun ideas and help out the other teachers in our online community.
Second, Help Other Music Teachers find and use these circle of fifths worksheets.
1. Pin your favorite worksheets from this list to Pinterest
2. Like and share myfunpianostudio.com on Facebook
Third, Start Teaching Group Classes to optimize your studio and give your students a fun and motivating learning environment.
Sign up for my email newsletter and get 2 free group lesson games that your students will love. Click the button below to subscribe and get the 2 free group games.