Welcome to the Collection of Fun Easter Music Worksheets for Kids
Here you'll find free printable music theory worksheets for kids that are perfect for private or group lessons. Scroll down for the fun way to teach music theory at Easter time.
To print any of the worksheets for free, just click on an image.

Spring Chick's Music Note Worksheet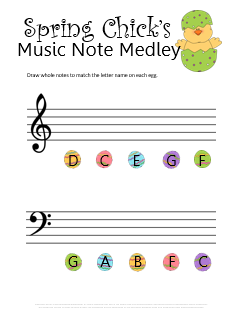 This is a fun note name worksheet for Easter. There is a letter name on each egg beneath the staff. Kids draw a whole note to match each letter name. There is a treble staff and a bass staff so that kids can practice both clefs.




Help the Easter Bunny Key Signatures Worksheet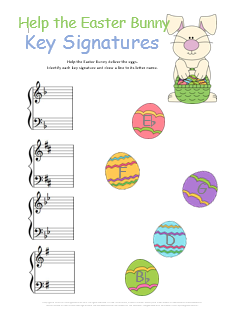 This Easter key signature worksheet is designed for kids who are just starting to learn key signatures and only focuses on key signatures with a small number of sharps or flats. To complete the activity, kids identify each key signature and draw a line to its letter name on the Easter eggs.



Easter Egg Hunt Rhythm Worksheet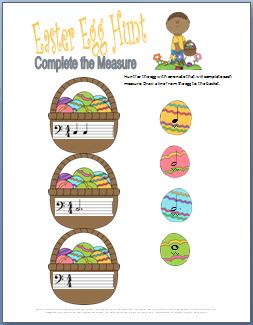 This printable has a fun activity to help kids better understand rhythm. Each Easter basket contains an incomplete measure. Students should look at the time signature and then identify the ONE note that would complete the measure. Kids then draw a line to the egg that contains the missing note.


More Holiday Music Theory Worksheets
If you liked these Easter music theory worksheets, you might want to check out the free printable music theory worksheets for other holidays. Just click a link or an image below to visit the pages for Halloween, Thanksgiving, Christmas, Valentine's Day, Saint Patrick's Day and Easter.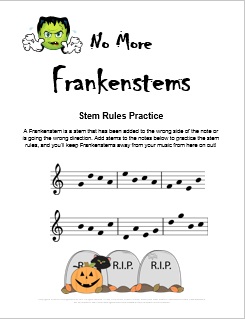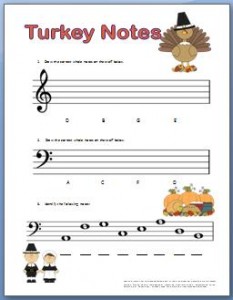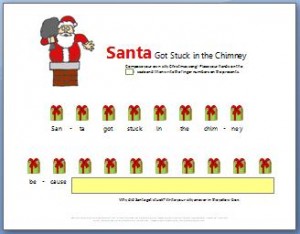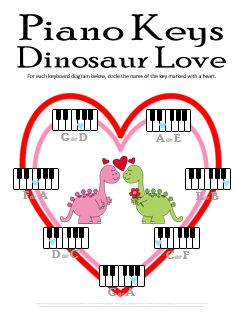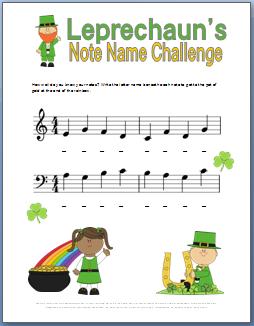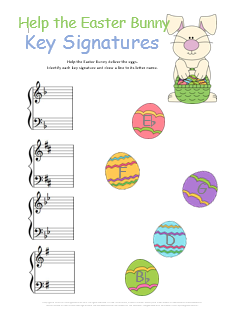 Did you enjoy the Easter music theory worksheets on this page? Here's what you can do next:
First, Leave a Comment–we all benefit when we work together and share ideas.
Which is your favorite worksheet and why? Are there other fun music theory games you like to play with your students before Saint Patrick's Day? Leave a comment below to help out the other piano teachers in our online community.
Second, Help Other Music Teachers find and use these worksheets and games.
1. Pin your favorite worksheets from this list to Pinterest
2. Like and share myfunpianostudio.com on Facebook
Third, Start Teaching Group Classes to optimize your studio and give your students a fun and motivating learning environment.
Sign up for my email newsletter and get 2 free group lesson games that your students will love. Click the button below to subscribe and get the 2 free group games.