Welcome to the Collection of Fun St Patrick's Day Music Worksheets for Kids
Here you'll find free printable music theory worksheets for kids that are perfect for private or group lessons. Scroll down for the fun way to teach music theory in March.
To print any of the worksheets for free, just click on an image.
Irish Intervals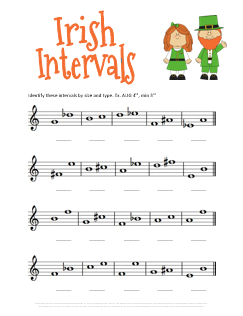 I've found that basic music interval identification, where students only need to identify the size (i.e. unison, 3rd, 6th), comes fairly easily. But when students need to describe both the numeric property and the type (i.e. perfect, major, minor, augmented, diminished), it can get trickier and students need much more practice. In my studio we spend a lot of time practicing scales, and I believe that this makes music interval identification easier. To complete this "Irish Intervals" worksheet, kids write both the size and type of each interval. Examples of correct answers include Aug 4th and min 3rd.

St Patrick's Day Circle of Fifths Music Theory Worksheet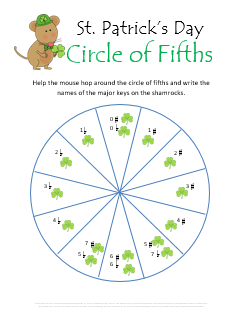 Understanding the circle of fifths is an absolute must for musicians. The circle of fifths helps students learn key signatures and chord progression, and is also an immensely valuable tool when improvising at the piano (which piano students love!) To complete this St Patrick's Day music theory worksheet, students just write the name of each key on a shamrock. Each wedge of the circle lists the number of sharps and flats.


Count Your Leprechaun Gold Rhythm Worksheet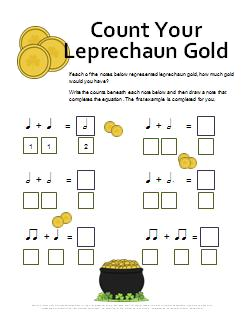 This fun free printable reviews rhythm note values. Students write the note value beneath each rhythm note in the addition problem. Then kids identify the one note that is equal in value to the other two notes and draw this note in the empty box and write its value on the line below.



The Shamrock Game for Learning the Piano Keys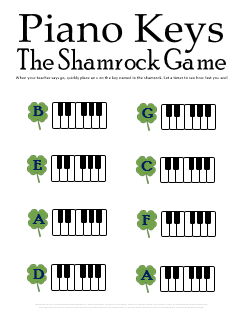 Beginner piano students will progress faster when you give them written exercises for learning the names of the piano keys. This free printable is great because it turns a worksheet into a St. Patrick's music theory game! When teacher says go, students race to see how quickly they can put an "X" on the correct piano key. It's fun to set a timer so the student can see how fast they are. It's really fun to use this game during a group lesson because it adds a competitive element to the activity. You can place the worksheet in a page protector and give kids a dry erase marker so that they can complete the activity 2-3 times and try to improve their time on each try.

Leprechaun's Race-A Saint Patrick's Note Name Worksheet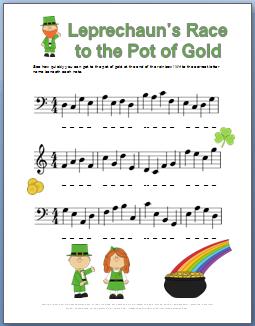 To complete this worksheet, kids race to see how quickly they can get to the pot of gold at the end of the rainbow. Students write the letter name beneath each note. As with the Shamrock Game, it can be fun to use this worksheet with a timer during a group lesson.




Lucky Clover-Key Signature Worksheet for Saint Patrick's Day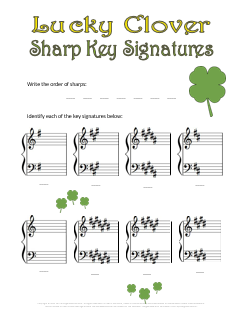 This is a free printable music theory worksheet for reviewing sharp key signatures. Kids begin by writing the order of sharps at the top of the page. Then they identify the key signature in each example.




Saint Patrick's Day Half Steps and Whole Steps Worksheet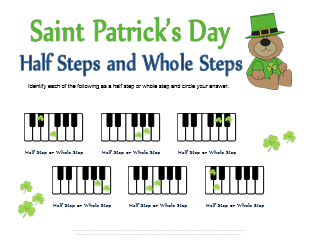 This printable helps kids practice identifying half steps and whole steps. The piano keyboard makes it easier for kids to visualize the concept. To complete the worksheet, kids just look at the highlighted piano keys and circle their answer.


Leprechaun's Note Name Challenge Worksheet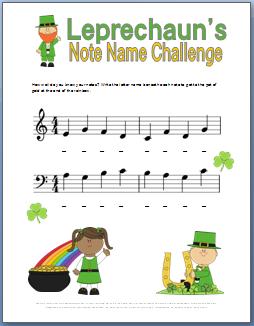 This is a St. Patrick's Day note name worksheet for beginner students, and is especially great for younger kids. There are less notes to identify so that younger students don't get overwhelmed, and the worksheet focuses only on the notes that surround middle C. These are the notes that are typically used by their beginner method books, so this should be a great exercise for your beginner piano students.


St. Patty's Day Key Signature Worksheet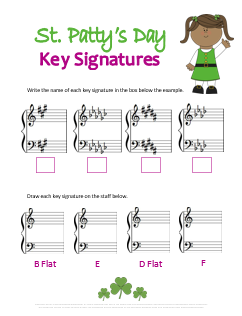 This worksheet will help your students practice both identifying and drawing key signatures. The first row asks students to identify the given key signatures and write their names below each example. The second row lists a key signature and asks students to draw in the sharps or flats to complete the key signature. It's a great exercise that will help your students work towards mastery of the key signatures.


More Holiday Music Theory Worksheets
If you liked these Saint Patrick's Day music theory worksheets, you might want to check out the free printable music theory worksheets for other holidays. Just click a link or an image below to visit the pages for Halloween, Thanksgiving, Christmas, Valentine's Day, Saint Patrick's Day and Easter.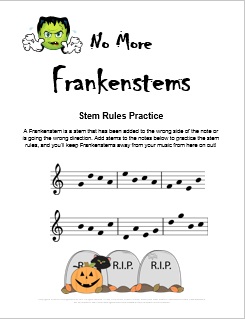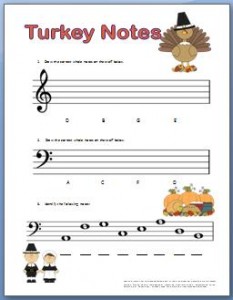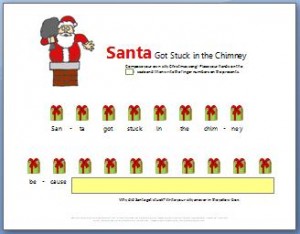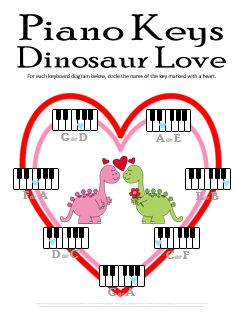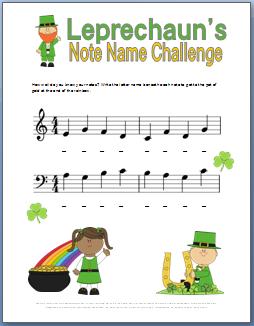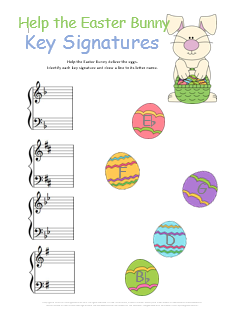 Did you enjoy the St Patrick's Day music theory worksheets and games on this page? Here's what you can do next:
First, Leave a Comment–we all benefit when we work together and share ideas.
Which is your favorite worksheet and why? Are there other fun music theory games you like to play with your students before Saint Patrick's Day? Leave a comment below to help out the other piano teachers in our online community.
Second, Help Other Music Teachers find and use these worksheets and games.
1. Pin your favorite worksheets from this list to Pinterest
2. Like and share myfunpianostudio.com on Facebook
Third, Start Teaching Group Classes to optimize your studio and give your students a fun and motivating learning environment.
Sign up for my email newsletter and get 2 free group lesson games that your students will love. Click the button below to subscribe and get the 2 free group games.