Welcome to the Collection of Fun Thanksgiving Music Worksheets for Kids
Here you'll find free printable music theory worksheets for kids that are perfect for private or group lessons. Scroll down for the fun way to teach music theory in November.
To print any of the worksheets for free, just click on an image.
Turkey Notes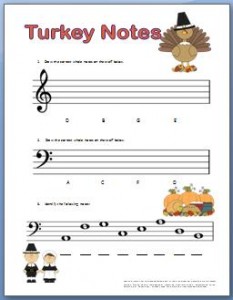 This fun free printable Thanksgiving music worksheet will help your students learn their note names. To complete the first two questions, students draw in the note named beneath the staff. There is a staff for both the treble clef and the bass clef so that kids can practice each. To complete question 3, students identify the given notes and write their letter names beneath the staff.


Pilgrim's Key Signature Crossing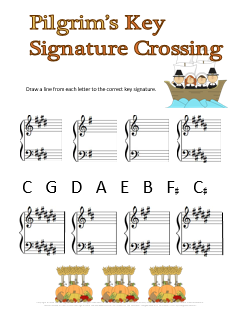 This music theory worksheet will help kids practice identifying sharp key signatures. Because I do a lot of piano improv with my students, I like students to be very familiar with all their piano scales and the key signatures. So we do a lot of exercises to help students master the key signatures. They love holiday themed activities like this one. To complete this theory worksheet, kids just draw a line from each key signature to it's name.


Piano Keys: Bring Your Favorite Pie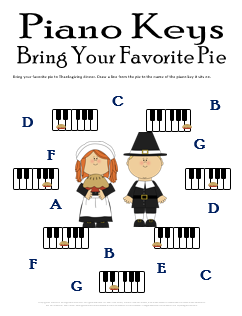 This is a fun Thanksgiving piano worksheet that you can use with your beginner students who are just starting to get oriented at the piano. Each piano keyboard diagram has a pie sitting on one of the piano keys. Students should identify the highlighted piano key and then draw a line to its letter name.



Fall Rhythms–A Music Theory Worksheet for Helping Kids with Rhythm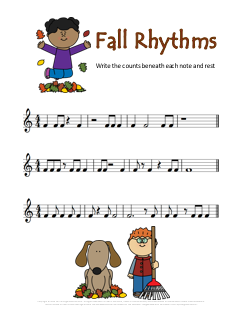 Writing the counts helps students so much in their understanding of rhythm. This printable helps students do just that. It is designed for kids who have been introduced to eighth notes and rests. To complete this music theory worksheet, kids just look at the time signature and write the counts beneath each note.



Ear Training Worksheet: Thanksgiving Harvest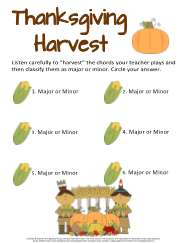 In my piano studio, we do a ton of ear training. Ear training helps students be better musicians all around, and I especially love how it helps students as they improvise and compose their own music. It's easier for students to take a melody that you "hear" in your head and replicate it on the piano when they've been doing ear training exercises and know how to identify the sounds they hear. This worksheet focuses on identifying major and minor chords. You, the teacher, simply give kids a copy of the worksheet and then play either a major or minor chord. Students circle their answer for each question, and then you give them feedback. This has become one of my students' favorite Thanksgiving music worksheets.
I Am Thankful: Beginner Piano Composition Activity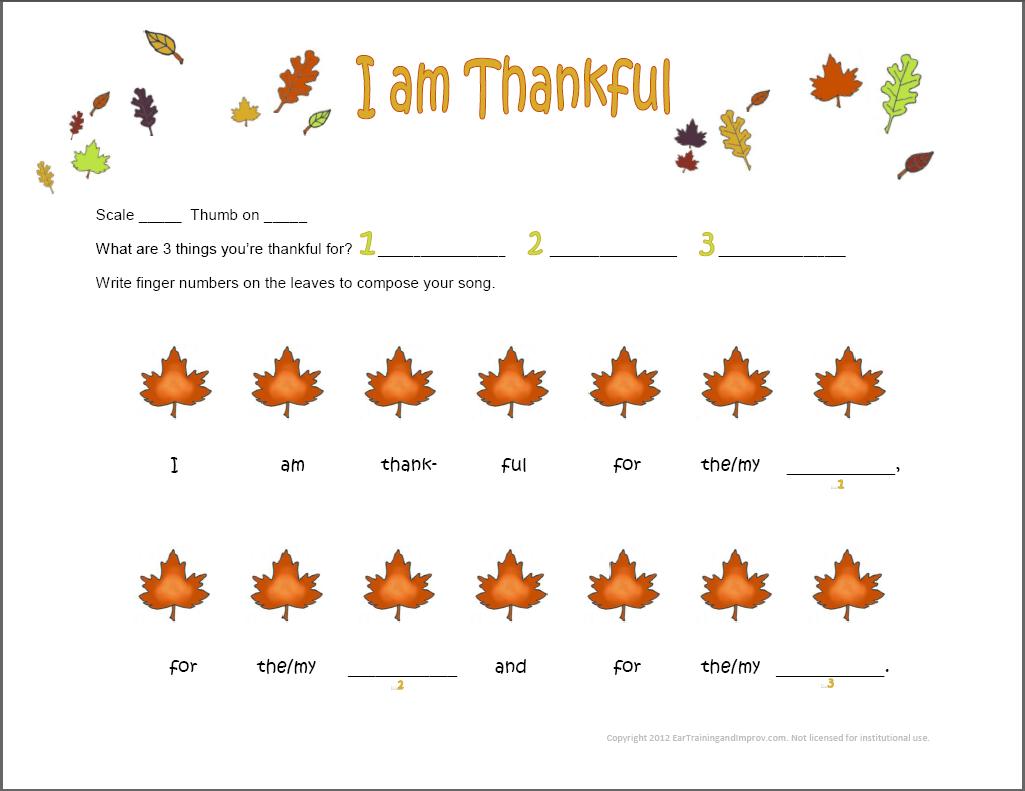 As I mentioned above, I really love teaching my students how to create their own music. It's so fun to see them be creative, to hear their impressive compositions and improvisations as they become more and more advanced, and to see how proud students are of the songs they create. I always start young children with simple piano composition activities like this one, and you can see more of them here. I ask kids to place their hands on a pentascale and then use the notes from that pentascale to compose their song. Students just write one note name on each leaf and–voila!–they've composed their first song!
I Am Thankful: Beginner Piano Composition with Rhythm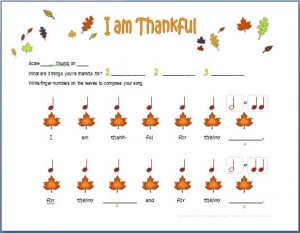 This Thanksgiving composition worksheet functions similarly to the one above, except that it gives kids the opportunity to and figure out a small portion of the rhythm of their song. You'll notice that the rhythm is included above each word, with the exception of the final word on each line. Students get to list three things that they are thankful for, and incorporate those into the song. You can then show students how to determine the number of syllables in the words they choose. If they choose a one syllable word, they need just one note for the word, so they should circle the half note. If they choose a two syllable word, they will need two notes, so they should circle the two quarter notes. This is a great exercise for kids because it gives them the opportunity to think critically about rhythm, but in a small dosage so that it's not overwhelming.
I Am Thankful: Beginner Piano Composition on the Staff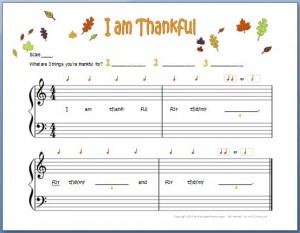 This "I Am Thankful" piano composition printable can be used as a first step for students who are a little farther along in their piano lessons. You can give this worksheet to your students and ask them to compose a song and write the notes on the staff with the correct rhythm. This worksheet can be used as a second step for beginner students who completed the composition activities above. In this case, you ask students to refer to their first worksheet, where they wrote the note names on the leaves, and draw those same notes on the staff.
I Am Thankful: Beginner Piano Composition with Left Hand Chords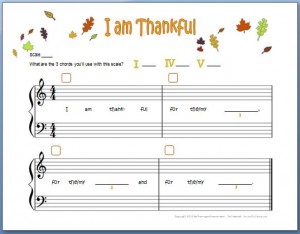 After students have composed their song and written the melody notes on the staff, students who have learned their chords can use this worksheet to add the left hand to their song. First have students write at the top left of the page the name of the pentascale they used to create their right hand melody. Then help students identify and write the names of the primary triads they would used with that scale. Students can then choose one of the primary triads to use in each measure and write its name in the box above the measure. Kids will be really proud of themselves when they complete this assignment and can show their parents the song that they wrote!

More Holiday Music Theory Worksheets
If you liked these Thanksgiving music theory worksheets, you might want to check out the free printable music theory worksheets for other holidays. Just click a link or an image below to visit the pages for Halloween, Thanksgiving, Christmas, Valentine's Day, Saint Patrick's Day and Easter.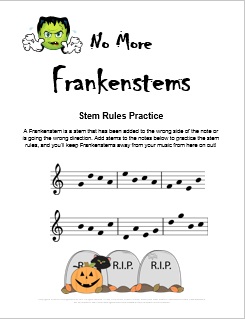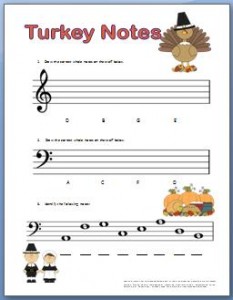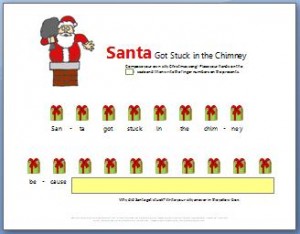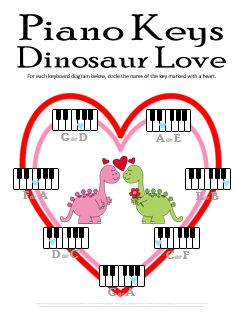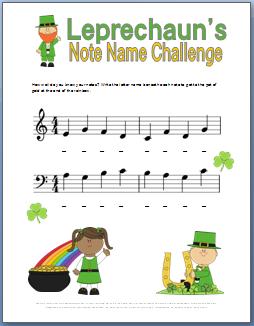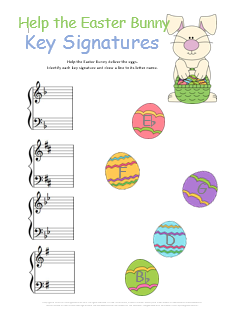 Did you enjoy the Thanksgiving music theory worksheets and games on this page? Here's what you can do next:
First, Leave a Comment–we all benefit when we work together and share ideas.
Which is your favorite worksheet and why? Are there other fun music theory games you like to play with your students before Thanksgiving? Leave a comment below to help out the other piano teachers in our online community.
Second, Help Other Music Teachers find and use these worksheets and games.
1. Pin your favorite worksheets from this list to Pinterest
2. Like and share myfunpianostudio.com on Facebook
Third, Start Teaching Group Classes to optimize your studio and give your students a fun and motivating learning environment.
Sign up for my email newsletter and get 2 free group lesson games that your students will love. Click the button below to subscribe and get the 2 free group games.