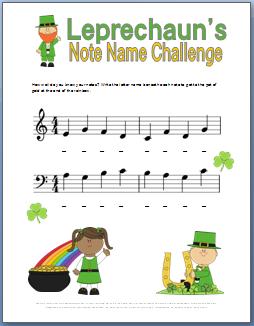 After I made the other leprechaun note identification worksheet I realized that it would also be nice to have an activity geared specifically towards new beginners. This way they can practice just the notes they've been learning in their introductory method books, without being overwhelmed by all the notes from the grand staff.
Here are three fun ideas for using this worksheet with beginning children:
1. Play the notes. Place the worksheet on the music stand. Point to one note at a time and ask the child to play the note on the piano and name it. You can take five minutes at the beginning of a lesson to practice note identification with this fun themed worksheet.
2. Name the notes. Help the child write in the letter name in the space beneath each note. You can reserve a few minutes during the lesson if you'd like to do the activity with your student, or you can send the worksheet with the child to be completed at home.
3. Find leprechaun gold. Use this game when you want to focus on just four notes that your beginning student needs to review. Hold up a penny and tell your student that it is leprechaun gold. Place a penny over four notes on the worksheet. Then ask the student to lift one piece of leprechaun gold at a time and then tell you the name of the note that that's hidden beneath the leprechaun gold.


Print This St Patrick's Day Piano Worksheet
Free Printable

Click on the link to see more piano worksheets.