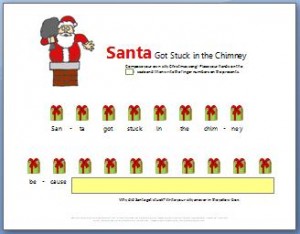 Looking for a fun piano composition activity for Christmas? Here's one that will thrill your younger students and probably make you laugh until it hurts.

Why did Santa get stuck? Kids come up with hilarious answers! Send home a worksheet with each student and get ready to see some funny things come back. Kids write their reason for Santa's sticky situation in the yellow box.

This worksheet is for kids who aren't yet proficient at note reading. They can easily compose a song by writing finger numbers on the presents.

I love that this sheet allows you give kids extra practice working with their scales. I hope you teach pentascales to your young beginners and use activities like this to show them that they can create music in any key. In this case, select whichever scale you're currently working on and ask the child to position her hand as if she were going to play that pentascale. Now compose a song using those keys and write the finger numbers on the gifts. Super easy, super fun, and super great practice with scales! It will also help kids begin to understand just how useful it will be to know their scales.


Print Santa Piano Composition
Free Printable
Did you enjoy this piano composition worksheet for kids? Here's what you can do next:
First, Leave a Comment–we all benefit when we work together and share ideas.
Do you have any tips for helping your students compose? Did you have any fun experiences with your students while using this piano composition activity? Leave a comment below to help out the other piano teachers in our online community.
Second, Help Other Music Teachers find and use this composition worksheet.
1. Pin this worksheet to Pinterest
2. Like and share myfunpianostudio.com on Facebook
Third, Start Teaching Piano Improv to give your students a lifetime of enjoyment at the piano.
Sign up for my email newsletter and get a free beginner blues improv lesson. This improv lesson is designed for beginners and can be learned quickly so that kids can start jamming right away. Click the button below to subscribe and get the free blues improv lesson.