Improvising on piano opens up a whole new world of fun! Here you'll find video tutorials for some of my students' best-loved piano improv activities.
All of the activities can be learned fairly quickly and sound impressive. Your piano students will have a blast performing for their family and friends, who will be blown away by the students' music.
Click on a title image below to view the video tutorial and read the complete post about each activity. You'll get to look over my shoulder as I sit at the piano to explain and demonstrate each improv activity.
Piano Students' Favorite Piano Improv Activities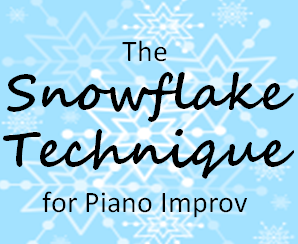 The Snowflake Technique is a gorgeous piano improv activity that's perfect for kids who are for the first time being introduced to improvising. This technique is used by the Piano Guys and your students will be thrilled that they can sound awesome just like John Schmidt. Click here to watch the tutorial and you'll be able to teach the Snowflake Technique at your next lesson and watch your student's eyes light up.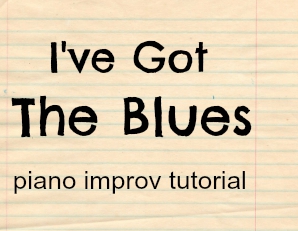 In this tutorial you'll learn how to teach kids to create their own version of The Blues. Kids just love bluesy sounds and creating them at the piano is easier than you think. Even more fun is playing the blues and singing along! Kids from all over submitted lyrics about why they have the blues and the top entries are featured. Click here and before long your students will be playing and singing the blues.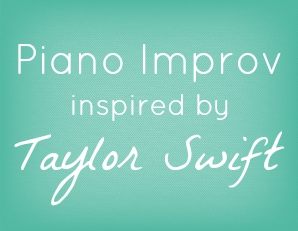 Your students will love to improvise using using one of Taylor Swift's all-time most popular songs. Your students' favorite pop songs can inspire some pretty awesome improvising at the piano, and in this video I'll show you how to introduce this skill to your students. Click here to watch this super fun piano improv tutorial. Guaranteed to be a huge hit in your studio!
Did your students love those activities and now can't wait for more impov? Improvising on piano really is easy when you know the formulas. Check out the links below for more training on how to get your students jamming and creating their own impressive music.
My Piano Improv for Kids ebook is a fun collection of piano improv activities for kids.
I believe that improvising on the piano and composing go hand in hand. It really helps students be better at improvising when they at least periodically go through the process of writing down a song, and focusing on using good musical structure. Click here to see my music composition worksheets for beginner piano students.
Ear training helps a student learn how to identify the melodic and rhythmic elements they hear–whether it be the music in their head or a song on the radio. Students with a well-trained ear have a distinct advantage when it comes to improvising at their instrument. Click here for ear training resources.

Are you ready for more improvising at the piano? Then you'll definitely want to subscribe to my email newsletter because I share my best material only with subscribers. Click the button below to subscribe and get a free blues improv lesson.