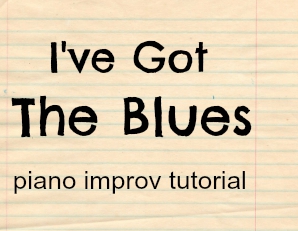 Here's a really fun piano activity in which students get to make up their own lyrics and sing about why they've "got the blues". My students love it, and teachers from all over the world tell me that their students have had a blast with this activity as well.
The first thing you need to do is show your students how to play this simple blues song on the piano (this song is different from the Free Beginner Blues Improv Lesson that you get when you subscribe to my newsletter). Click play to watch the video tutorial.
Blues Lyrics
After kids can play the blues song on the piano, they can start singing along with lyrics. Kids from all over sent in blues lyrics that they wrote to go along with this piano activity. I love how creative they are, and some are hilarious!
Encourage your students to try out their favorites from this list and then try creating their own lyrics. Ask kids to think about what things give them grief and to be creative with the lyrics. Does school lunch, frizzy hair or gym class give them the blues? You'll love seeing what they come up with!
Did you enjoy this fun piano blues activity? Here's what you can do next:
First, Leave a Comment–we all benefit when we work together and share ideas.
How did it go when you tried out this activity yourself or with your students? Leave a comment below to share your experience and inspire the other piano teachers in our online community.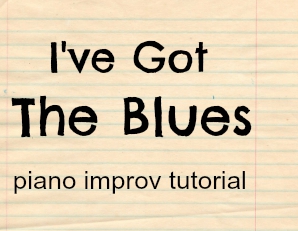 Second, Help Other Music Teachers find and use this piano improv tutorial.
1. Pin the title image that's on the right
2. Like and share myfunpianostudio.com on Facebook
Third, Start Teaching Piano Improv to give your students a lifetime of enjoyment at the piano.
Sign up for my email newsletter and get a free beginner blues improv lesson. This improv lesson is designed for beginners and can be learned quickly so that kids can start jamming right away. Click the button below to subscribe and get the free blues improv lesson.