Students love to create their own music and a great way to get them started is with simple piano composition worksheets. Composing simple songs helps kids better understand how music is organized and builds confidence–students are always so proud of their songs and thrilled to show them off for their family.
These printables are great because they help young piano students learn how to create a melody based on the tones of a scale. After my young beginners have worked through several of these sheets, they are better prepared for our improv activities.
These sheets also help students learn to create in rhythm. Often when beginners are asked to improvise, they will play randomly and without regard to rhythm. These sheets help students pay attention to the beat and create a simple melody with only one note per beat.
I encourage students to compose based on scales, especially pentascales, and to begin and end each piece with the tonic. So for example, if a student is learning the C penatascale, I give them one of these piano composition sheets and review the notes from the scale (CDEFG). Then I tell them that C is the keynote or tonic–the most important note of the scale. To give their song a strong start and clear finish, they can start and end with C. I'll have them go ahead and write in C for their first and last notes. Then I turn them loose to experiment at the piano and complete the rest of the song, using any notes from the C pentascale in any order.
Ice Cream Piano Composition Worksheet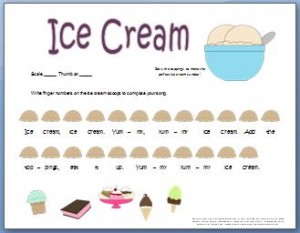 My beginner piano students always love this composition activity. This is one of the first composing assignments that I give to my students. I ask them to compose based on a pentascale that they have learned. There is place at the top of the page to write down the name of the pentascale they should use. To help students remember where to place their hand, you can discuss where the thumb would go to play this pentascale and write the name of the piano key at the top of the page as well.

If I Could Fly in a Spaceship Beginner Piano Composition Worksheet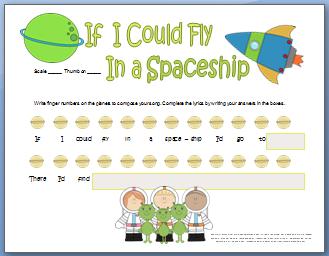 This is a fun piano composition activity for beginner kids that functions similarly to the Ice Cream activity. In addition to creating a melody, kids get to make up some of the words. Where would they go if they could fly anywhere in a spaceship? What would they find when they get there? Kids' creative answers to these questions become part of their song.

Santa Got Stuck in the Chimney Christmas Composition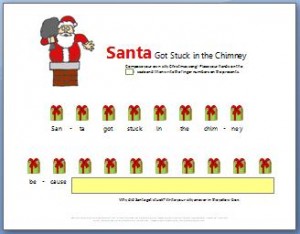 This is a silly composing activity you can use with your students at Christmas time. Kids get to think up a silly reason why Santa got stuck in the chimney and add their own words to their composition. I've seen kids come up with some pretty creative and funny stuff!


Santa Got Stuck in the Chimney On the Staff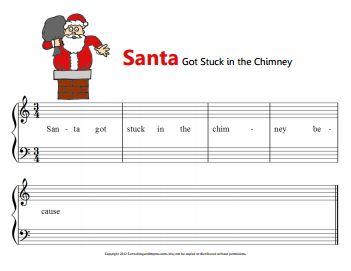 After your students have written their composition on the beginner printout above, you can give them this worksheet so that they can practice drawing the notes on the staff. If you have older students who don't need the simplified version, you can have them start with this worksheet. Older students usually have a lot of fun with this activity and like coming up with creative reasons why Santa got stuck.

I Love My Mom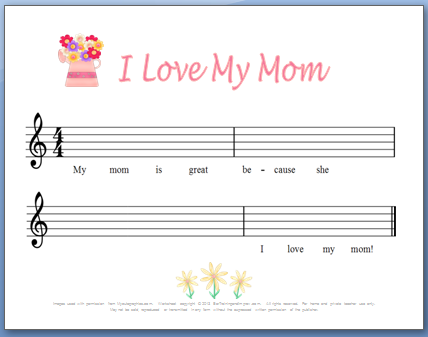 Your students' mothers will think you're the best teacher ever when you use this activity to help your students create a special Mother's Day gift. Kids can use this printout to compose an original song to play and sing for their mom on Mother's Day. Kids get to insert their own lyrics about why they love their mom, and they get to compose the melody. This is a piano composition activity for beginners that is sure to bring a smile to moms and give kids a happy, proud moment as they express their gratitude for their mother through their piano playing.

My Dad's the Best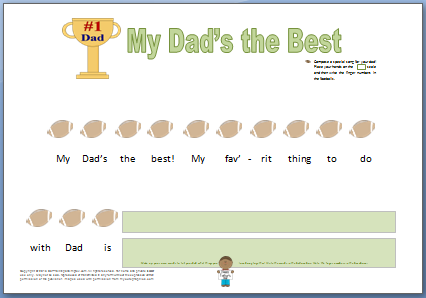 Let's not forget about dads! I know that many students take time off from lessons during the summer, but you could send this worksheet home with them on their last day of class before school gets out and encourage them to compose a song for Father's Day. Dads like to be appreciated too! And having their child compose a special song for them makes Dads feel good about piano lessons and the money being spent on them.

My Dad's the Best–Piano Composition for Beginners on the Staff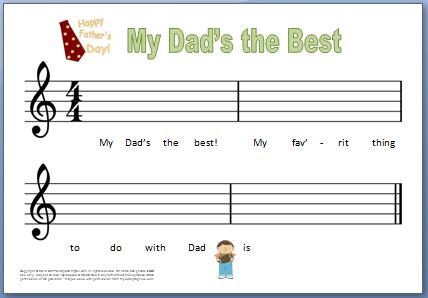 This activity functions the same as the one featured above, except that kids get to write in the notes on the staff. Older kids can begin with this activity. Younger or beginner students might first compose on the football worksheet and then copy their song onto this printout if they are ready and know their notes well enough.

I Am Thankful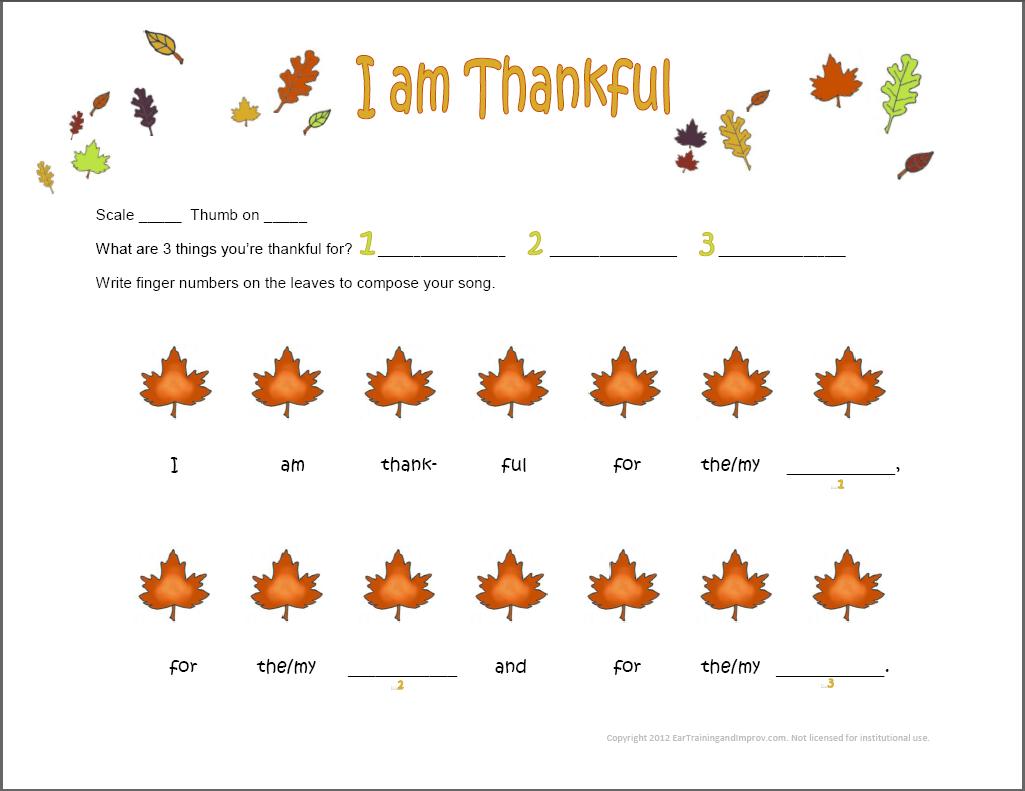 Here's a fun Thanksgiving composing activity for your young beginner piano students. Kids list three things they are thankful for and insert them into the lyrics of their song. Then kids write the note names of their song on the leaves. It's always fun to see what kids say they are thankful for. Some kids write things like their family. Other kids write items that see a little more random to us adults, but it's both fun and funny to see the world from their perspective.

I Am Thankful–Piano Composition for Beginners with Rhythm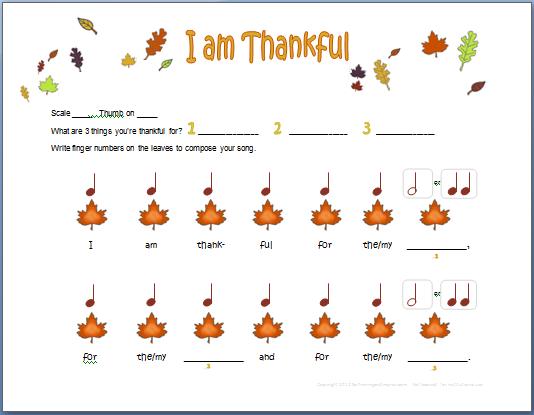 This activity is the same as the one above, but it includes the rhythm notes above the leaves.




I Am Thankful–Piano Composition for Beginners on the Staff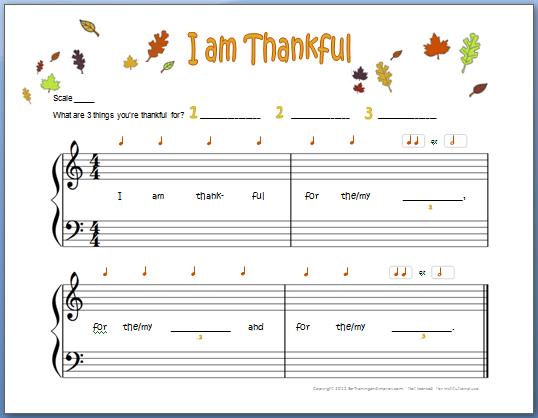 Kids can use this printout to write down the notes of their Thanksgiving song on the staff. Beginners can first compose using one of the worksheets with leaves and then transfer their song onto the staff on this sheet. Older students can begin with this worksheet.


I Am Thankful–Beginner Piano Composition with Chords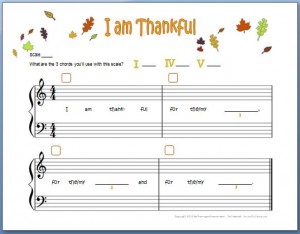 If you're like me and do a lot of chord work with your piano students, you'll enjoy this version of the Thanksgiving piano composition. Remind students how to find the primary triads for they key they've composed in, and then encourage your students to choose one primary triad to use in each measure. Students write the name of the chord in the box above each measure. Kids can play the melody with their right hand and the triads with their left hand. Kids love to hear how much fuller and complete their song sounds when they add left hand chords.

Fireworks in the Sky–Beginner Piano Composition for the Fourth of July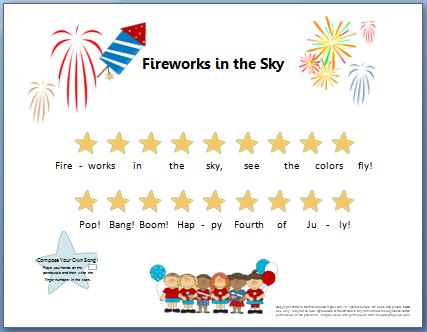 Piano students can use this free printable to compose a fun song for the Fourth of July. Just assign your student a pentascale to work with and ask them to write one note name on each star.



Fireworks in the Sky–Fourth of July Beginner Piano Composition on the Staff with Chords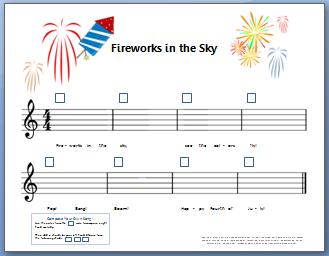 With this worksheet, kids can draw in the notes from their Fourth of July piano composition. It's great practice for kids to draw the notes on the staff, and the exercise is fun because kids are excited about and take ownership of their composition. After they've written in the melody, students can add the left hand chords. Encourage your students to focus on the primary triads and write one chord name in the box above each measure.

Summer Fun–Beginner Composing Activity for Piano Students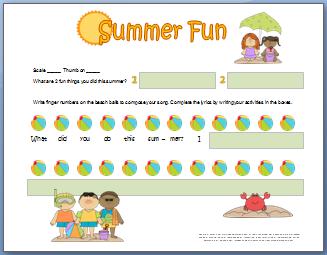 Here's another fun summer piano composition for beginners. As always, I recommend that you assign a pentascale to your students and then ask them to use the notes from that pentascale to compose a song. Kids simply write a note name on each beach ball. So simple! Your students will love that they've written their own song and be excited to play it for their family and friends.

Did you enjoy these piano composition worksheets for kids? Here's what you can do next:
First, Leave a Comment–we all benefit when we work together and share ideas.
Which is your favorite worksheet and why? Did you have any fun experiences with your students while using these piano composition activities? Leave a comment below to help out the other piano teachers in our online community.
Second, Help Other Music Teachers find and use these composition worksheets.
1. Pin your favorite worksheets from this list to Pinterest
2. Like and share myfunpianostudio.com on Facebook
Third, Start Teaching Piano Improv to give your students a lifetime of enjoyment at the piano.
Sign up for my email newsletter and get a free beginner blues improv lesson. This improv lesson is designed for beginners and can be learned quickly so that kids can start jamming right away. Click the button below to subscribe and get the free blues improv lesson.