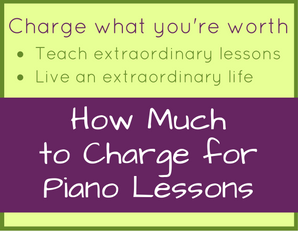 Figuring out how to price your piano lessons is one of biggest challenges for a teacher when opening a studio.
How much you charge depends on if you want to be an ordinary teacher or an extraordinary teacher living an extraordinary life.
The ordinary way to figure out how much to charge for piano lessons is to call 10-20 teachers in your area and ask them what they charge. Ask them about their training, years of experience, and any special features of their studio. Then analyze the data you've collected and set a price that matches what other teachers with your level of expertise are charging.
That's an easy way to set your prices, and if you're just getting starting you might want to set your prices following these steps.
But I'm guessing that because you're visiting this website, you'd like to be an extraordinary teacher and live an extraordinary life. If that's the case, the way you set your prices will be very different from the way an ordinary teacher sets prices.
Most piano teachers severely undervalue themselves. Why? In most cases, it's because they worry about getting enough students to fill their slots, lack confidence to charge what they are really worth, or worry about asking families to pay more.
You will overcome your fears and insecurities about charging higher prices as you work to become an extraordinary teacher, and this website will help you get there. Utilize the resources in the Piano Teacher's Playground, learn how to teach kids to create music through piano improv, and learn how to better structure your piano teaching business. Be sure to also subscribe to my newsletter because I share my best tips and in-depth trainings only with subscribers and in my teacher training courses.
As you become a better teacher, you'll find that you don't have to offer the lowest prices to attract clients. Yes, there are a lot of people looking for a cheap piano teacher. But there are also a lot of people looking for a high-quality piano teacher, and they are willing to pay more for such a teacher. And you'll likely discover that you get higher quality students when you charge higher prices.
Your prices should reflect what you believe your time is worth and the amount of value students receive from your instruction.
Who determines what your time is worth? You do! Take a minute to evaluate your skill level, how many years of experience you have, how much time you spend preparing lesson plans for individual students, and all the special things you do that make your studio stand out. When you take everything into account, how much do you believe your instruction is worth?
Would you like some reassurance that people in your community will pay for quality extracurricular instruction? Call up a ballet studio, hockey league or a karate class and ask what they charge. You might be surprised to see how highly the instructors value an hour's worth of their time, and I hope this will inspire you to charge what you believe you're worth and reassure you that your community can support higher tuition for high quality piano instruction.
What should you do if you have current students who you would like to keep, but who you know couldn't afford a higher rate? Go ahead and raise your prices and then watch my blog for an upcoming article for ideas on how to work with these students.
Charging what you're worth will help you live an extraordinary life
I know way too many piano teachers who put their heart and soul into their lessons and work long hours every week and still only have a few hundred extra bucks to show for it each month. Sure, a few hundred helps, but it will still take you forever to save up for a new family vehicle or the family trip you'd love to take.
What if instead you could be earning a few thousand each month? What could you accomplish with a higher income?
And if you were charging what you're really worth, would you have to work as many hours? Instead of cramming in every single time slot from the time school lets out until evening, could you just work the hours that you wanted to work, and then have more time to enjoy the other aspects of your life?
And if you were an extraordinary teacher who charged what she was really worth, would you enjoy teaching even more? You could more easily afford fun resources for your students as well as professional development to help yourself become an even better teacher.
Summary of how to choose your rates for piano lessons
I'd reccommend that you do still call 10-20 teachers in your area to give you a starting point as you begin to consider prices. Piano tuition varies hugely from one region to another, and even from one city to another within the same state.
In 2012 I called about 30 teachers in my area and recorded this data:
A novice teacher was charging $8-$10 for a 30 minute lesson.
A more experienced teacher was asking between $40-$55 per month, in most cases for weekly 30 minute lessons.
An experienced teacher with confidence charged $55-$80 each month.
A high-end teacher was typically offering lessons at a rate between $80 and $120 per month.
I live in a area that is saturated with piano teachers and this data is already old and becoming even more outdated, so please do be sure to call teachers where you live and find out the current going rates. Your area will likely have very different pricepoints than these, but I hope this info is helpful for some teachers.
After calling piano teachers in your area, take some time to evaluate all that you have to offer and what you really believe your instruction is worth. Resist the negative self-talk that would convince you to undervalue yourself. Determine a rate that you honestly believe represents what your time is worth and the amount of value students receive through your instruction. And if students gain more from you than they would with an average teacher, then you should definitely ask for more than the average teachers in your city.
Did you enjoy this article about determining how much to charge for your piano lessons? Here's what you can do next:
First, Leave a Comment–we all benefit when we work together and share ideas.
What special factors do you think teachers should take into account when setting prices–what makes a teacher more valuable? Leave a comment below to help out the other piano teachers in our online community.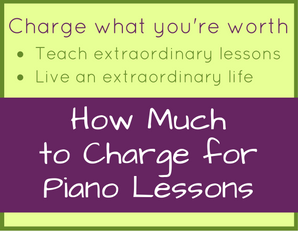 Second, Help Other Piano Teachers find and use these strategies.
1. Pin the title image that's on the right
2. Like and share myfunpianostudio.com on Facebook
Third, Start Optimizing Your Studio in a way that makes your lessons and your life extraordinary.
Sign up for my email newsletter and get free access to the Extraordinary Piano Teacher's Checklist. Click the button below to subscribe and get the free checklist.