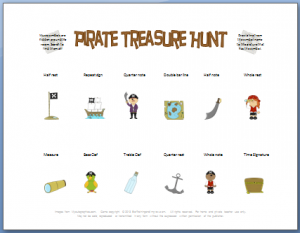 Help kids master the names of music symbols with Pirate Treasure Hunt.
Give your child or student a copy of this answer sheet and then turn him loose to find all the music symbols that you've hidden around the room.
It can take kids years to learn the names of music symbols, but the process can be accelerated when you use fun games like this. I like to print the Pirate Treasure Hunt Signs on card stock so that I can reuse them. I print the answer sheets on regular white paper.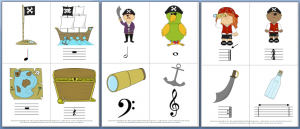 Pirate Treasure Hunt
Purpose: Identify music symbols
Materials: Pirate Treasure Hunt Signs, Pirate Treasure Hunt Answer Sheet, pencils, painter's tape
Teach and Review: Review the names of the music symbols as necessary.
Set Up: Attach the Treasure Hunt Signs with tape to the wall around the room. Give each child an answer sheet and pencil.
How to Play: When parent or teacher says go, kids begin their treasure hunt, searching for all the symbols on the wall and noting which pirate picture is with each symbol. Kids draw a line from the written symbol name on their answer sheet to the correct pirate picture.
Graphics used with permission from Mycutegraphics.com.


Get free printables for Pirate Treasure Hunt.
Pirate Signs
Pirate Answer Sheet