I hope you enjoyed the previous tutorial on how to teach Away in a Manger. This post features Silent Night piano sheet music for kids and teaches how to improvise a gorgeous left hand pattern. The improv lesson builds on the previous lesson–we'll use a left hand pattern that's similar to the one used in Away in a Manger, but we'll add a little more to it.
The first video shows you how to help kids learn to play Silent Night by ear using the help sheet. Once your student can play the melody, whether by ear or by reading the notes, show them the neat little trick in the second video. This second video teaches a beautiful left hand accompaniment that even young kids can learn.

After you've watched the videos to learn how to use this free printable Silent Night sheet music, click on an image below to print.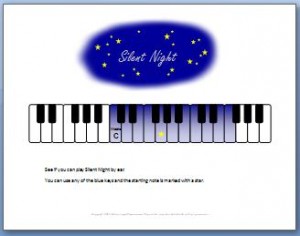 This first sheet helps kids learn how to play Silent Night by ear. Silent Night is an excellent piece for anyone who's new to playing by ear because the melody is simple, includes plenty of repetition, and is well-known. I recommend that you try this activity first.
I bet your students will impress you! Last year I gave this assignment to a few 5 year old students who were just beginning. I wasn't sure what would happen, but all of them were able to do it. I was blown away, and you should have seen those huge grins–they were so proud of themselves!
After students can play the melody, teach them the left hand accompaniment. The video shows you an easy pattern that even kids can do. It makes the piece sound beautiful and the students will be floored that they can create such impressive sounds.
With young kids, it's a good idea to first introduce the accompaniment by playing a duet. Learn the duet part from the video and then teach it to your students. Then you play the melody while they accompany, and vice versa.
Keep in mind that students will be most successful with this activity if they know their scales and chords well. Hopefully, you've been teaching scales and chords all along, but if not older students can probably still do this if you give them a quick crash course on how to play just the chords needed for this piece. If you'd like to learn my system for teaching scales and chords to young kids, be sure to sign up for my free email newsletter so that you can get information about my Piano Magic Curriculum.
If you like this video tutorial and the free printable sheet music for Silent Night, please take just a second to like it, share it and leave a comment. I'd love for others to be able to find and use these resources, and I really do read your comments and appreciate your feedback.
Did you enjoy these steps for teaching kids how to play Silent Night? Here's what you can do next:
First, Leave a Comment–we all benefit when we work together and share ideas.
How did it go when you used these techniques with your students? What other tips do you have for helping kids learn to play their favorite Christmas carols beautifully? Leave a comment below to help out the other piano teachers in our online community.
Second, Help Other Music Teachers find and use this Silent Night Piano Sheet Music and the process for teaching kids how to play by ear and improvise the left hand.
1. Pin your favorite activities from this page to Pinterest
2. Like and share myfunpianostudio.com on Facebook
Third, Start Teaching Piano Improv. It's fun to play music written by others, but also very fun for kids to create their own songs.
Sign up for my email newsletter and get a free beginner blues improv lesson. This improv lesson is designed for beginners and can be learned quickly so that kids can start jamming right away. Click the button below to subscribe and get the free blues improv lesson.