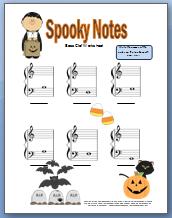 Why is it that students always seem to have more trouble with the left hand notes?
For whatever reason, kids definitely need extra practice with the bass clef. Here's a fun worksheet that's perfect for Halloween. It's quick enough to use during a lesson, or you can send it with the child to have her complete it at home. Either way, it's a fun way to practice those low notes!
Print Spooky Notes Bass Clef Worksheet
Free Printable
Want more worksheets? Click the link to view more
music theory worksheets
.
You can also read this post about
bass clef worksheets
.