Myfunpianostudio.com has loads of resources that will help you make your lessons and your life extraordinary!
Click on a link below to see a complete description of each resource and to make a purchase.
Teaching Resources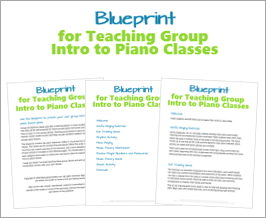 Blueprint for Teaching Group Intro to Piano Classes
Use this blueprint to quickly learn what elements are essential in effective group introduction to the piano lessons.
Offering group lessons helps you use time efficiently, increase studio income and get the best students for your private lessons. Plus group classes are a ton of fun!
Click here to learn more and buy the Blueprint now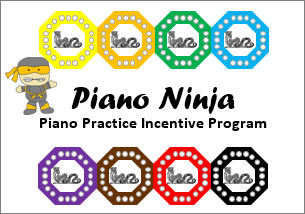 Piano Ninja Practice Incentive
Piano Ninja is a fun year-long piano practice incentive. Students each begin as a "white belt" and earn points from their at-home practice efforts each week to advance through the different belt colors.
Click here to learn more and buy Piano Ninja now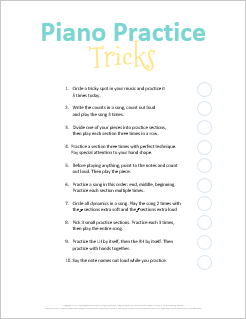 Piano Practice Tricks
Give your students a set of specific practice strategies that will help them practice effectively and master their pieces more quickly. This PDF has 10 "Piano Practice Tricks" that your students can use to practice more effectively at home. Print a copy for each student and place it in their piano binder and ask students to use at least one "trick" during the week. The Piano Practice Tricks are a fun way to help students make more progress during their at-home piano practice sessions.
Click here to learn more and buy Piano Practice Tricks now


10 Fun Piano Games
Help kids become piano theory pros—and have fun getting there. To master piano theory, kids need lots of practice. But tiresome drills are sheer drudgery for kids. You'll see faster progress and kids who love learning and applying music theory when you use these 10 Fun Piano Games.
Click here to learn more and buy the 10 Piano Games now

---

Piano Improv

Quickstart Tutorial for Teaching Piano Improv
Kids can learn to create their own impressive song to show off for their family and friends. Piano improv is easy when you know the formulas, and you'll quickly learn 3 foundational principles in this Quickstart tutorial.
Click here to learn more and buy the Quickstart Tutorial now


Piano Improv for Kids eBook
Piano Improv for Kids is an eBook with more than 20 printable pages that teach 8 fun piano improv activities for young piano students.

Click here to learn more and buy the eBook now