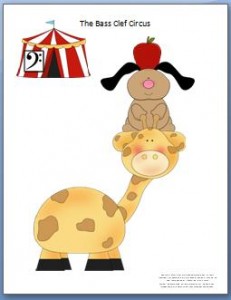 If you read the previous posts, you'll know that I'm trying to help a cute little student be able to quickly identify her notes.

After visiting the Treble Clef Zoo, we go to the Bass Clef Circus. I tell the kids a fun little story about the things I saw at the circus. The most impressive thing I saw was an enormous giraffe with a dog riding on its back. And the whole time they were walking around the circus ring, that dog was balancing an apple on top of it's head!
Once kids have been exposed to this visual, we relate it to the notes of the bass staff. I want the kids to quickly be able to recognize that a note on the very bottom line is G (giraffe), a note on the middle line is D (dog) and the top line is A (apple).

There are a lot of games you play as you follow this theme. I hope you'll use this visual with any kids who would benefit from faster note recognition.


Print The Bass Clef Circus
Free Printable