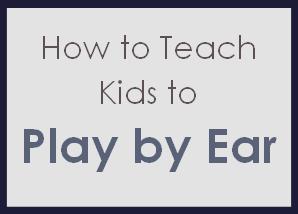 I recently had a set of siblings transfer into my studio. One of the brothers is naturally gifted with the ability to play by ear. I could tell that the younger brother admired the gift and wished he too could play by ear. He was delighted when I told him that he can with this easy process for teaching kids how to play piano by ear.
Playing the piano by ear comes naturally to some people, and they are so lucky! I am not one of these people, and most of the students I teach also weren't born with this ability. However, I've discovered that following the simple 4 step process outlined in this article can help kids begin developing the skill of playing the piano by ear.
Here's the simple 4 step process for teaching kids how to play piano by ear:
1. Choose a Familiar Song
Select a song that the child knows well and is able to sing. It's essential that the child be able to sing the melody, so teach her to sing it first if she can't yet do so.
2. Give the Starting Note and Range of Notes
Show the child the full range of which notes they can choose from, and I recommend relating the range to a scale. This step makes the task seem less overwhelming. The free printable play by ear starter sheets (found at the bottom of this article) have already done the work for you.
3. Help Your Student Figure Out the First 3-5 Notes
Kids will have more confidence if you sit beside them and help them with the first few notes. While the student presses the first key, sing the second note. Many kids will try to find it own their own, but if your student looks like he needs a little direction you can ask questions like: "Is it higher or lower than the first note? Try to find a higher key that sounds right." Being successful right at the start gets kids excited about finishing the song and gives them the confidence that they really can play by ear.
4. Turn Them Loose
If you've helped your student with the first several notes, she'll quickly realize how easy the process is and want to keep going. Tell her that you're confident she'll do great and that you're going to let her figure out the rest of the song on her own.
When your student figures out the song and plays it for you, shower him with praise. He'll be excited to continue developing this new talent- and this is a talent that will serve him well!
Younger kids will need more help and you may want to sit beside them for the first few songs and help them figure out the entire song. You'll be able to tell when they're ready to try playing piano by ear on their own.
Give Kids Lots of Practice with Playing Piano by Ear
The ability to play piano by ear can be developed through practice, and is easier when you do ear training exercises with your students and have them practice the four step process taught on this page. I created these starter sheets to help kids as they make their first attempts at playing by ear.
The song's starting note is marked with a star on the printout. The complete range of notes used in the song is highlighted on the piano keys on the printout. Click on an image to view and print the playing by ear starter sheet for each song.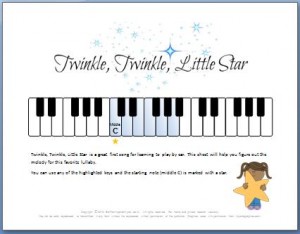 Twinkle, Twinkle Little Star is a great first piece when you're leaning how to play by ear because the melody is so well known and because the melody is simple.
Give your students a copy of the printout and then follow the four step process for teaching kids to play piano by ear. First, check that the student knows the melody well enough to sing it. Second, show her the starting note, which is marked with a star on the printout. Show her the range of notes used in the song. Third, help her figure out the next several notes, and fourth, turn her loose to figure out the rest of the song.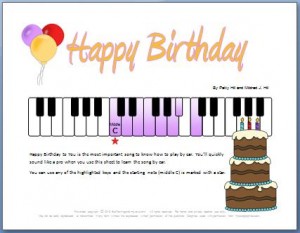 Happy Birthday is the most important song to know how to play by ear. If you only ever learn one song by ear, this should be it!
Pianists will always have opportunities to play Happy Birthday. And this song is a lot of fun to experiment with once you've got the basics down. After learning the melody, piano players can add simple chords in the left hand and then eventually play the song with different styles. You're sure to be a crowd pleaser when you can play Happy Birthday in a variety of fun arrangements.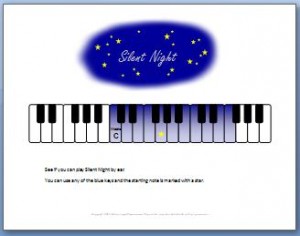 Playing by ear saves the child from the embarrassment of only being able to play when she's carrying sheet music. At Christmastime, kids often have unexpected opportunities to play at family parties. Prepare your students with this Silent Night activity and everyone will be delighted. Your students will get a huge confidence boost when grandparents, aunts and uncles hear them play and then congratulate them.
Everyone loves this beautiful Christmas carol, and because it is so beloved it naturally lends itself to expressive playing. When kids learn how to play Silent Night by ear, they aren't focusing on note reading, but instead on how the music sounds. Once they are comfortable with the melody, you can easily work on expressiveness and you'll find your students very inclined to play beautifully.
You can watch a video tutorial on how to improvise a gorgeous left hand accompaniment to Silent Night here. Scroll down to the second video that is titled "Silent Night Piano Chords".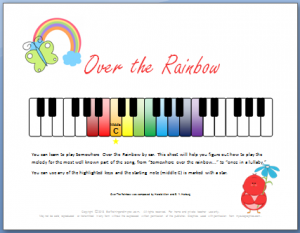 The simple four step process for teaching kids to play the piano by ear works with any melody, including your students' favorite popular songs. Learning to play well-known songs like Over the Rainbow gives beginner pianists a huge boost in confidence.
Use this free printable so that your students can give Over the Rainbow a try. Then encourage the kids you teach to try to figure out their favorite song by ear.

Did you enjoy these steps for teaching kids how to play piano by ear? Here's what you can do next:
First, Leave a Comment–we all benefit when we work together and share ideas.
How did it go when you used this process with your students? What other tips do you have for helping kids learn to play the piano by ear? Leave a comment below to help out the other piano teachers in our online community.
Second, Help Other Music Teachers find and use this process for teaching kids how to play by ear.
1. Pin your favorite activities from this page to Pinterest
2. Like and share myfunpianostudio.com on Facebook
Third, Start Teaching Piano Improv. It's fun to play music written by others, but also very fun for kids to create their own songs.
Sign up for my email newsletter and get a free beginner blues improv lesson. This improv lesson is designed for beginners and can be learned quickly so that kids can start jamming right away. Click the button below to subscribe and get the free blues improv lesson.