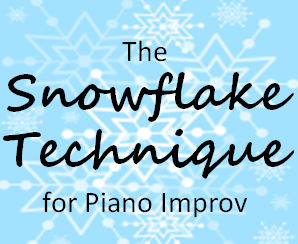 This is one of my students' all time favorite activities. It's a beautiful piano improv technique that's easy enough for kids to master in just a few minutes.
Click play to watch a professional use this technique.
In this video tutorial, I show you how you can teach this piano improv technique to children. We use the C scale because it's easy for the kids to grasp. Once they understand the concept, you can have them try it with other scales. It's great practice!
When I taught this little trick to the kids in my studio, I first showed the Piano Guys video and pointed out when the pianist used this technique. They were really excited when I told them that they were going to learn it!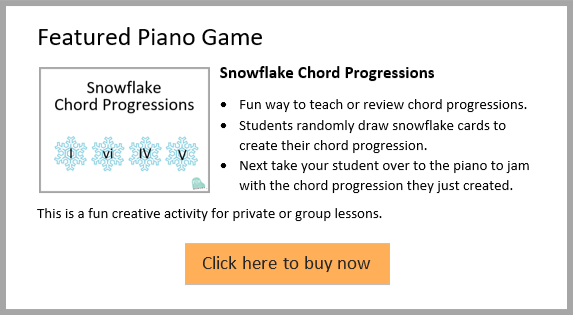 Want to play a fun game the week after you introduce the Snowflake Technique? Snowflake Chord Progressions is a fun way to teach students about chord progressions. This game works great in either private or group lessons. You can even use the Snowflake Piano Improv Technique (taught in the video above) with the chord progressions your student creates with this game. Click here to buy Snowflake Chord Progressions. Your students will have a blast!

Did you enjoy this piano improv tutorial? Here's what you can do next:
First, Leave a Comment–we all benefit when we work together and share ideas.
How did it go when you tried out this activity yourself or with your students? Leave a comment below to share your experience and inspire the other piano teachers in our online community.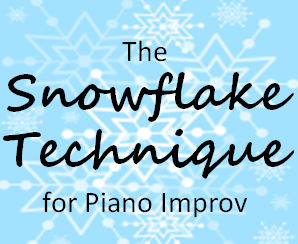 Second, Help Other Music Teachers find and use this piano improv tutorial.
1. Pin the title image that's on the right
2. Like and share myfunpianostudio.com on Facebook
Third, Start Teaching Piano Improv to give your students a lifetime of enjoyment at the piano.
Sign up for my email newsletter and get a free beginner blues improv lesson. This improv lesson is designed for beginners and can be learned quickly so that kids can start jamming right away. Click the button below to subscribe and get the free blues improv lesson.