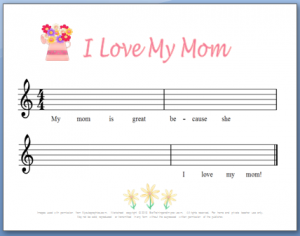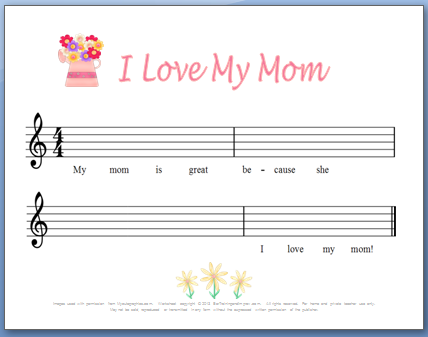 This piano composition activity gives kids an opportunity to express love and gratitude to their mothers.
There's a place where the child can personalize the song by writing something that they love about their mother. Then kids fill in the notes to compose a special song to play for their mom on Mother's Day.
It means a lot to mothers to hear their kids express appreciation. Hearing her child sing and play song written just for her is sure to make mom smile.
Print this Mother's Day Song for Kids Free
Free Printable
Did you enjoy this piano composition worksheet for kids? Here's what you can do next:
First, Leave a Comment–we all benefit when we work together and share ideas.
Do you have any tips for helping your students compose? Did you have any fun experiences with your students while using this piano composition activity? Leave a comment below to help out the other piano teachers in our online community.
Second, Help Other Music Teachers find and use this composition worksheet.
1. Pin this worksheet to Pinterest
2. Like and share myfunpianostudio.com on Facebook
Third, Start Teaching Piano Improv to give your students a lifetime of enjoyment at the piano.
Sign up for my email newsletter and get a free beginner blues improv lesson. This improv lesson is designed for beginners and can be learned quickly so that kids can start jamming right away. Click the button below to subscribe and get the free blues improv lesson.