Get kids creating music
and excited about learning piano,
while boosting their self-confidence
Get ready to see an explosion of creativity!
Kids love bluesy sounds and are thrilled that they can play 12 Bar Blues with this simplified children's approach
Learn to make up a cowboy song- boys especially love this
Elephant March is an easy improv with BIG sound that gets kids really excited
Kids' confidence skyrockets when they realize that they can create a diversity of impressive songs
Parents glow with pride when they see their kids creating their own songs
Fun application of music theory- kids will be begging to learn more theory because they'll realize how much fun they can have at the piano when they understand music theory
Excellent way for teachers to re-inspire kids who are bored with piano
Great way to get kids excited about learning scales and chords
Detailed instructions for beginners
Kids are naturally creative and love learning how to improvise
Bonus Training Videos
Buy now and get 4 free video tutorials. You'll see exactly how to play 4 of the activities. A fail-proof resource for beginners!
Piano Improv for Kids eBook
Piano Improv for Kids is an eBook with more than 20 printable pages that teach 8 fun piano improv activities for young piano students. You get detailed instructions for teaching children how to improvise on the piano and colored illustrations that make it easy for beginners to get started. Watch your young students blossom as they create their own music and impress their parents and friends!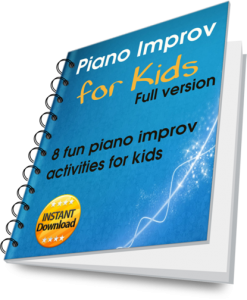 Get the Piano Improv for Kids eBook for just $14
Click Here to Buy Now