Welcome to the Fun Collection of Piano Teacher Resources
The piano lesson ideas, games and studio business tips featured here will help you make your lessons and your life extraordinary
View a specific category by clicking on any of the quick links below:
Piano Lesson Games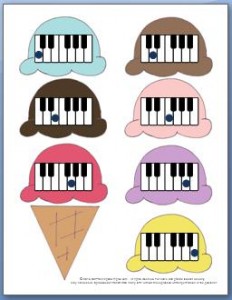 This is a fun piano game for teachers working with beginner piano players who are learning the names of the piano keys. Simply print this free piano teaching game on cardstock and cut out. Give the student a cone, and then hold up an ice cream scoop. If the student can correctly name the highlighted piano key, give her the scoop to add to her cone. See how tall she can make her Jumbo Ice Cream Cone! Click here for this free piano lesson game.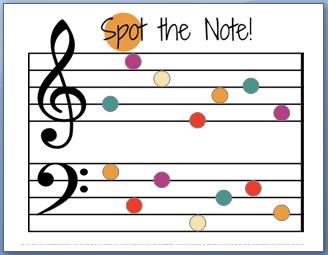 This free printable has become one of the most popular piano teacher resources on my website. Probably because you can play dozens of different games with it. One game that kids love is to give the student a small treat and ask him to place the treat on a note that you call out. If student answered correctly, they get to eat the treat! Click here to print this fun piano teaching resource.
There are more free piano teaching games here and I've also got a bundle of 10 fun piano games for kids that you can check out here.
Free Piano Theory Worksheets
These kid-friendly, colorful piano theory worksheets will help make teaching piano theory fun. Here are a few of my favorites, and you can visit the worksheets page to see the complete collection of over 50 fun piano teaching worksheets.
No list of piano teaching resources would be complete without ideas for the holidays. Here you'll find tons of free printable worksheets and piano teaching games. Just click a link or an image below to visit the pages for Halloween, Thanksgiving, Christmas, Valentine's Day, Saint Patrick's Day and Easter.
How to Get Kids to Practice the Piano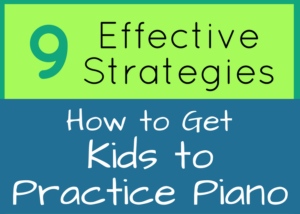 Looking for ideas to help your students practice more and practice better? Then you don't want to miss this article, which is filled with ideas and piano teacher resources that are specific to helping your students practice. Click here to read the article "How to Get Kids to Practice Piano."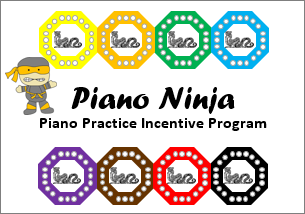 Among the most essential piano teacher resources is a good piano practice incentive program. Piano Ninja is a fun program designed to motivate students to practice at home and to recognize their accomplishments. Students begin as a "white belt" and earn points from their at-home practice efforts each week to advance through the different belt colors. Click here to learn more about Piano Ninja.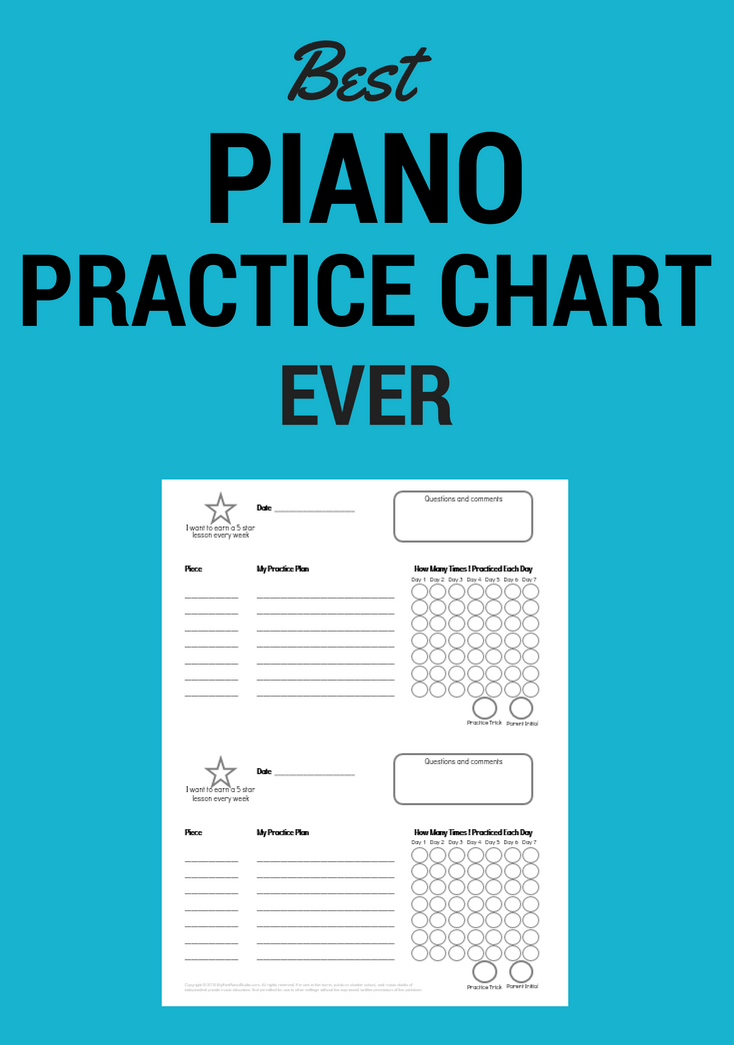 Using piano practice charts is another effective strategy for getting kids to practice more. When students know that they will need to give an accounting of their practice efforts at home, they are much more likely to put in the time. And checking their practice log shows students that you care about what they do at home. You'll be able to give students feedback about their practice when you can see what they're doing. Click here to learn more about using practice charts effectively and to print my practice chart free.

How to Grow Your Piano Studio Business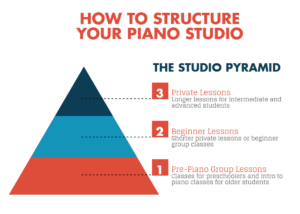 Far too many teachers are in a situation where they are working longer hours than they'd like and their income is lower than it should be. You deserve to live an extraordinary life, and with a properly optimized studio you can increase your income, use time efficiently, have more time for family and hobbies and have the best students in your private lessons. Click here to learn how to properly structure your piano studio.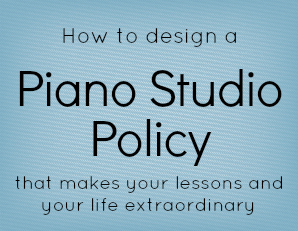 An effective studio policy is one of the most important piano teacher resources for the business side of your studio. Policies should reflect not only how you want your studio business to operate, but also the role that piano teaching plays in your life. This article will help you reflect on what you want most out of life and how your piano teaching business can help you reach your goals. Click here to learn how to design a piano studio policy that makes your lessons & your life extraordinary.
For more ideas on growing your studio, visit the Piano Studio Business page.

Piano Teacher Resources for Group Piano Lessons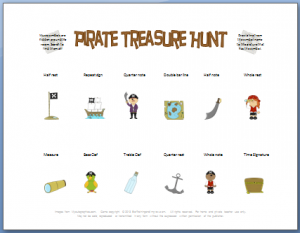 This game is a huge hit during group piano lessons! Kids get to go on a fun treasure hunt to learn the names of music symbols. You will hide the printable symbols around the room, and then give each student a pirate map. Then ask the kids to match the symbols with the names on their map. Click here to print this piano lesson game.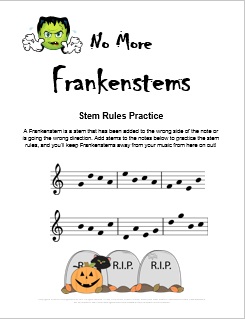 A Frankenstem is a stem that is on the wrong side of the note or going in the wrong direction. This fun activity can be used in a group lesson to help students learn the stem rules. Give each student a copy of the worksheet and a pencil. Discuss the stem rules and then set a timer for 1 minute. See which student can draw the most correct stems before the timer goes off. Hopefully after this activity, you'll see a lot less Frankenstems in their music theory assignments! Click here to print this fun piano theory game.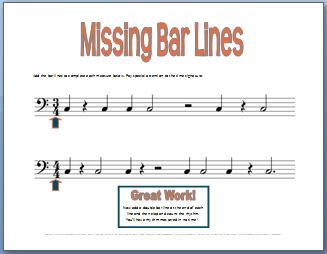 Here's another fun resource for group piano lessons. This game helps students practice adding bar lines. Print out a copy for each student, and then give them pretzel sticks and ask them to add the missing bar lines with the pretzels. Kids will be excited to eat the snacks after they've finished! Click here to print this piano lesson game.

How to teach Fun Piano Improv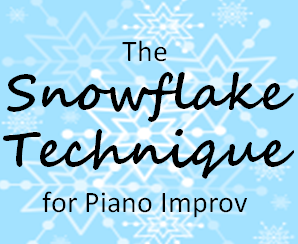 Teaching piano improv is a great way to help your students fall in love with the piano. If your students love making music at the piano, they'll be more excited about piano lessons. Plus parents will be more likely to brag about how amazing you are, and they'll want their kids to show off their impressive piano improv skills to friends and neighbors, which could help you get more students. The Snowflake Technique is a beautiful piano improv activity that kids love, and is easy enough for beginners. Click here to watch the video tutorial.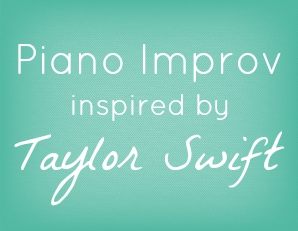 For students who are a little more advanced, you might want to check out this piano improv activity inspired by Taylor Swift. First they'll learn a pattern that sounds like the introduction Taylor Swift plays on her guitar in the song Love Story. The pattern is super fun and sounds really impressive. Then students will learn an easy left hand progression that gives their song a driving pulse as they improvise with the right hand. Click here to watch the video tutorial.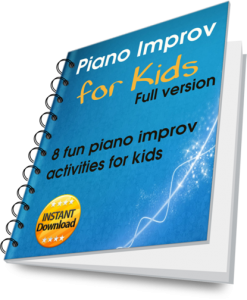 If you want a bunch of fun piano improv activities to use with beginner kids, you might want to check out and buy the Piano Improv for Kids eBook. It's got 8 fun improv activities including 12 Bar Blues for kids, Cowboy Swing, Elephant March and more. Click here to check out the Piano Improv for Kids eBook.

Ear Training Resources for Piano Teachers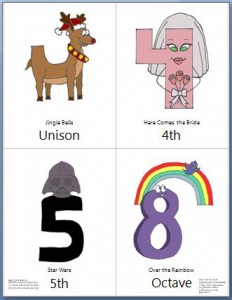 Ear training often gets overlooked in piano lessons, but it can have such a big impact on a student's musicianship. Students with a good ear can play more musically, learn new pieces easier, and have a blast creating their own versions of the fun songs they hear on the radio. The Intervaltoons are a fun resource that piano teachers can use to help students with music interval recognition. Click here to read more about this ear training strategy and print the visuals for the four perfect intervals.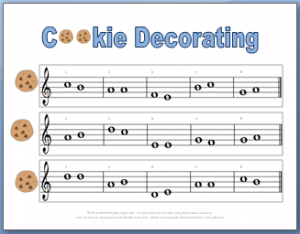 Cookie decorating is a fun ear training game to help students with beginner melodic dictation. This activity works great in a private lesson, and is also a lot of fun in a group piano lesson. Print the game and place it in a page protector. Then give each student a dry erase marker. Tell them that they will hear 3 notes. The first two are printed for them, and they need to listen and fill in the missing third note. The third note will either repeat the second note, or go up or down by a step. Click here to print the Cookie Decorating ear training game for piano lessons.
For more ear training resources, click here.

My Favorite Piano Teaching Books
My First Piano Adventure with CD (for younger kids)
Piano Adventures (for everyone else)
I hope you have fun with this big list of fun resources for piano teachers! Using these ideas, you can make your lessons and your life extraordinary!

Did you enjoy these piano teacher resources? Here's what you can do next:
First, Help Other Music Teachers find and use these helpful strategies.
1. Pin the title image that's on the right
2. Like and share myfunpianostudio.com on Facebook
Next, Start Teaching Group Classes to optimize your studio and give your students a fun and motivating learning environment.
Sign up for my email newsletter and get 2 free group lesson games that your students will love. Click the button below to subscribe and get the 2 free group games.