Free printable worksheets for the bass clef. My students have loved these activities and I'm excited to be able to share them with you. Kids need lots of exercises to help them reach fluency in note reading, and the bass clef seems to be particularly tricky for many students. Use one of these worksheets each week and you'll see rapid progress in recognition of the low notes. That translates into better sight reading and quicker and easier mastery of new songs from their method books. To print a worksheet, just click on the image.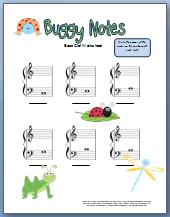 Buggy Notes Bass Clef Worksheet
Fun bug themed worksheet to help kids learn their notes.
Print Bass Buggy Notes worksheet for free.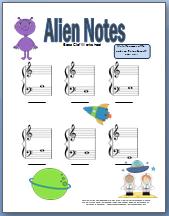 Alien Notes Bass Clef Worksheet
Fun alien themed worksheet to help kids learn their bass notes.
Print Alien Notes worksheet for free.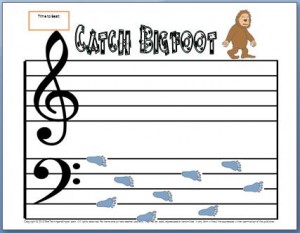 Bigfoot Bass Clef Activity
You've got to be fast if you're going to catch Bigfoot! Click the link to read the post about this Catch Bigfoot bass clef activity.
Print Bigfoot worksheet for free.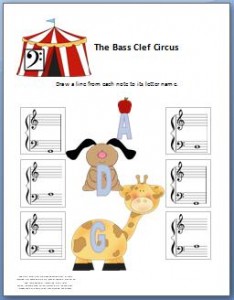 Bass Clef Circus Worksheet
When I teach young children their notes, I start with the bottom, middle and top line notes on each staff. You can learn more about that method and this fun Bass Clef Circus activity by clicking the link. There's also a free printable poster you can use alongside this worksheet.
Print Bass Clef Circus worksheet for free.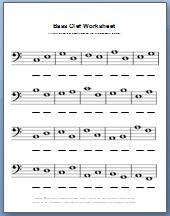 Black and White Bass Clef Worksheet
Great for older students or people who prefer printing without color.
Print worksheet for free.


Click the link to see Treble Clef Worksheets.
Want worksheets for practicing all the notes on the grand staff? Visit Note Name Worksheets.
To see the full list of Music Theory Worksheets, click the link.
Did you enjoy these bass clef worksheets? Here's what you can do next:
First, Leave a Comment–we all benefit when we work together and share ideas.
What other ideas do you have for teaching the bass clef notes to kids? Leave a comment below to share your fun ideas and help out the other teachers in our online community.
Second, Help Other Music Teachers find and use these bass clef worksheets.
1. Pin your favorite worksheets from this list to Pinterest
2. Like and share myfunpianostudio.com on Facebook
Third, Start Teaching Group Classes to optimize your studio and give your students a fun and motivating learning environment.
Sign up for my email newsletter and get 2 free group lesson games that your students will love. Click the button below to subscribe and get the 2 free group games.